BznsBuilder and NilePreneurs Empower New Founders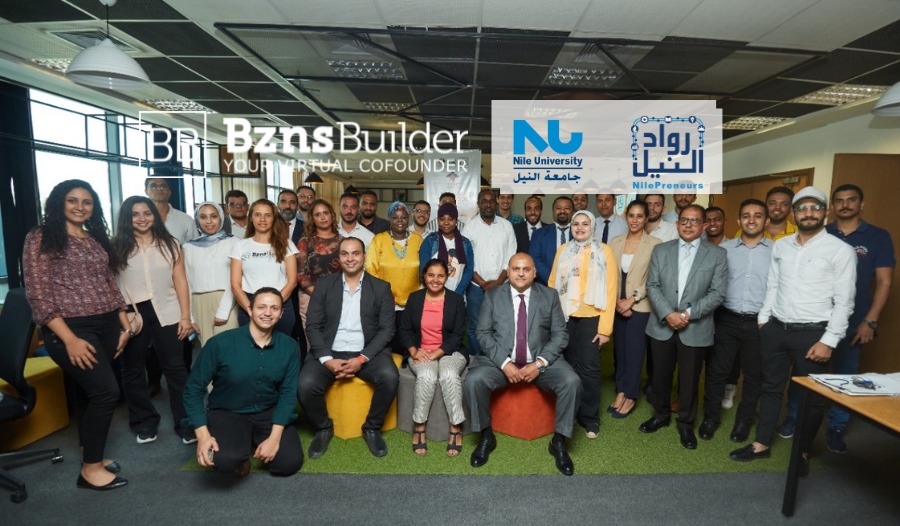 BznsBuilder Joins Forces With NilePreneurs And Export Development Bank To Empower The New Generation Of Founders
BznsBuilder, the first 360 Business Relation Management platform (BRM,) announced its collaboration with NilePreneurs initiative which is a nationwide initiative funded by the Central bank of Egypt and operated by Nile university on their new cycle on Product Design (Pre-incubation program) putting a new wave of innovative entrepreneurs on the way of growth.
What is the export development bank Product Design Pre-incubation program?
The Export Development Bank (EDB) Product Design Pre-incubation Program is a program that provides early-stage entrepreneurs and innovators with the necessary support to launch their businesses. Through this program, EDB offers various services such as – mock-up development, marketing research, prototyping, equipment rental, and more in order to ensure a successful product launch.
This cycle under the Packaging and product design incubator is sponsored by and Export Development Bank. The 10 startups joining the program will be using the BznsBuilder platform to develop their business plans, market analysis, financial modeling, and strategy development.
Selected teams will be onboarded and trained on the platform during the orientation session. Mentors will monitor their progress during the program through the platform also.
BznsBuilder is a flagship platform that prides itself on being the startup's virtual co-founder providing businesses with step-by-step guides on building impeccable business plans. The platform automates financial reports and charts without the need for a solid financial background. Founders can also develop their pitch decks and one-page plans, export and share them with investors.
Riham Abu Elinin, founder of BznsBuilder said "We are excited to be working with NilePreneurs initiative to help founders grow their businesses and access proper investments. Egypt has witnessed a huge uprise in its startup scene this year, and we are thrilled to be empowering startups to validate their businesses and contribute to the economic growth of the country."
Mohamed Abbas, head of the incubation program commented "NilePreneurs initiative always looking for innovative tools and services for their incubated entrepreneurs and startups to support them achieving their dream to real commercialized products for that they collaborate with the service providers who offer such services in Egypt like BznsBuilder.
–ends–
For Press Inquiries
BznsBuilder PR Team
info@bznsbuilder.com
About BznsBuilder
BznsBuilder is the leading 360 Business Relation Management (BRM) platform enabling businesses to monitor all their operations in one dashboard. The platform helps businesses build, organize, and track the progress of their businesses in a single dynamic dashboard. BznsBuilder is the startups' virtual cofounder helping them create their one-page plan, pitch deck, and access funds in an easy step-by-step guide.



About NilePreneurs
NilePreneurs is a national, fast-growing, initiative funded by the Central Bank of Egypt, and implemented by Nile University. NilePreneurs aims to enhance the ecosystem for entrepreneurs in Egypt through its different programs. The initiative works closely with different banks, governmental entities, and international organizations to achieve its targets.