bznsbuilder empowers mint incubator by egbank and cairo angels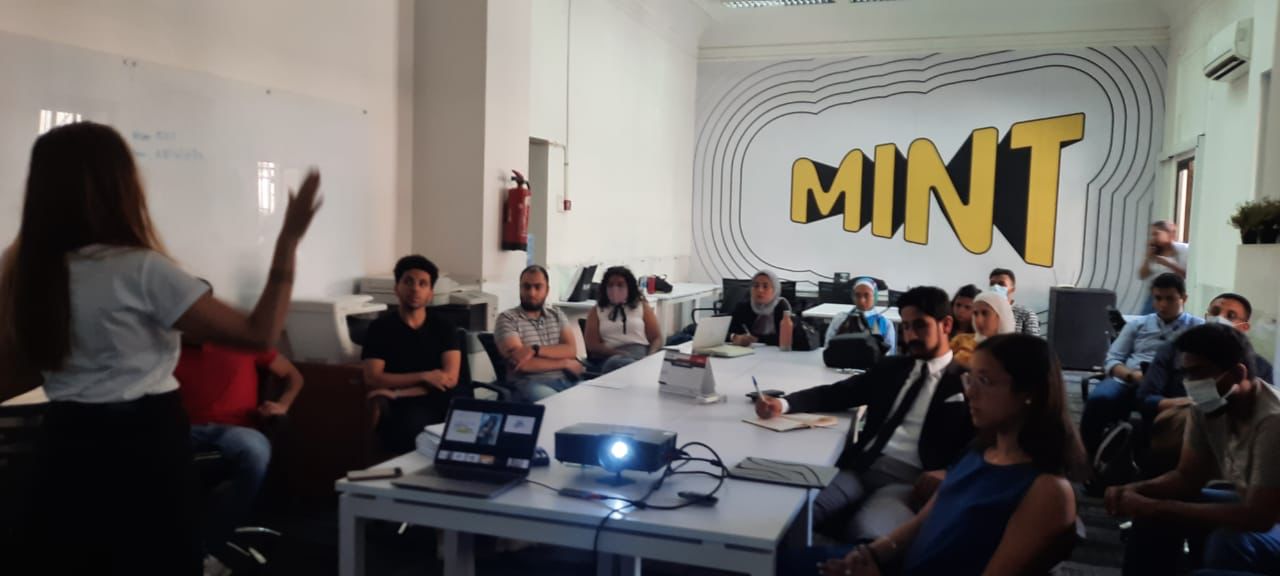 Cairo, September 20
BznsBuilder, the leading Egyptian 360 Business Relation Management platform (BRM,) announced its cooperation with MINT Incubator by EGBANK powered by Cairo Angels, the leading early-stage incubator in Egypt for the second time. The new collaboration will significantly strengthen the startups' experience and knowledge provided by Cairo Angels mentors and investors during the program.
BznsBuilder for the second time is working with the 12 new startups in the current cohort to build their business plans seamlessly through the tool. Riham Abu Elinin, the founder of BznsBuilder, provided the startups with an onboarding session to introduce the tool and explain how the tool complements the learning curriculum of the incubator. She also explained the concepts of the lean business plan and why it is vital for an entrepreneur's success.
Cairo Angels mentors and investors will have full access to the 10 startups' profiles during the program, monitoring their performance and providing tailored support for each startup. They will continue to track the startups' progress post the program, facilitating the funding and investment opportunities.
The tool will help startups create and validate their business model, financial modeling and reporting, strategy development, and much more in marketing and organization management.
BznsBuilder is a flagship 360 Business Relationship Management (BRM) platform that prides itself on being the startup's virtual cofounder providing businesses with step-by-step guides on building impeccable business plans. The platform automates financial reports and charts without the need for a solid financial background. Founders can also develop their pitch decks and one-page plans, export and share them with investors.
Riham Abu Elinin, BznsBuilder founder and CEO said, "We are thrilled about our cooperation with MINT by EGBANK, empowering aspiring entrepreneurs and facilitating the process of building their businesses is at the core of our vision, and we are looking forward to seeing the progress of this cohort with BznsBuilder."
Nelly Mahmoud, Chief Communication Officer & Head of Youth Beyond Banking & Financial Inclusion at EGBANK said, "The impact of BznsBuilder on the performance of our previous cohort exceeded our expectations and provided the startups with great experiences; this is why we are excited to be collaborating again with BznsBuilder on empowering 10 new startups, helping them achieve their goals."
Zeina Mandour, General Manager at Cairo Angels said, "The exercise of business planning helps the founding team to capture all the business needs, and help them in projecting their financials and set the right targets where they can monitor their progress against the assigned targets"
BznsBuilder currently covers 187 industries that the founder can choose from. In addition, it also helps startups expand their network and reach out to experienced experts.
–Ends–
About BznsBuilder
BznsBuilder is the leading 360 Business Relation Management (BRM) platform enabling businesses to monitor all their operations in one dashboard. The platform helps businesses build, organize, and track the progress of their businesses in a single dynamic dashboard. BznsBuilder is the startups' virtual cofounder helping them create their one-page plan, pitch deck, and access funds in an easy step-by-step guide.
About MINT Incubator
MINT Incubator is an intensive 4-month incubation program that is designed for businesses that already have a product, not just an idea. The incubator aims to provide its startups with the opportunity to grow their business to the next level and become a more attractive investment opportunity. The startups benefit from a series of intensive workshops, provided by EGBANK and its partners, addressing key areas aimed at accelerating the startup's business and enhancing the team's know-how. Additionally, each startup is paired up with a top-class mentor chosen from a relevant background to provide customized support and guidance throughout the program.
About Cairo Angels
The Cairo Angels is Egypt's first formal angel investment network; investing in and supporting early-stage startups in Egypt and across the MENA region. Established in 2012, Cairo Angels convenes regular investment meetings to review pre-selected potential investors that meet the Cairo Angels investment criteria. Members may join virtually or physically in either Cairo or London.
"Are you looking for a reliable online banking platform? Egbank's online accounts offer safety and convenience on an easy-to-use website. Find out how to open your own account today and get the most out of digital banking!"
How to Open an Egbank Online Account
Gather Necessary Documents.
Before you can open an Egbank online account, you will need to have a few documents in order. These include proof of identities such as a government-issued identity card, passport, or driver's license, proof of address such as utility bills, bank statements, or tax returns; and proof of income from your employer or other sources. Having these documents prepared and ready will ensure that the application process goes smoothly.
In addition to having the necessary documents, you will also have to provide information about your income, investments, and expenses. All of this helps Egbank figure out what your overall financial situation is and if you are eligible for certain services. When you submit the application, it usually takes just a few minutes to process, so you will know right away if you have been approved or denied. It's important to be aware that applications are subject to approval and that the approval process may take several days or weeks, depending on how complete the initial application is.
Are you looking for growth and development opportunities through Egyptian incubators? Check out this guide to find out where to start your search!
Overview of Incubators in Egypt.
Incubators in Egypt provide the opportunity for entrepreneurs to access incubator services, including mentorship, financial resources, and networking among business owners. Some of the best incubators in Egypt include Egypt Venture, Innoventures, and Endeavour Cairo-Alexandria. These top incubators in Egypt can make it easier for you to find resources and gain knowledge to help take your business idea off the ground.
Innoventures is a business accelerator focusing on technology-based and digitally enabled start-ups in Egypt. It provides consulting and mentoring services, workshops, access to industry networks and investors, as well as financial awards ranging from $12 thousand to $400 thousand. Meanwhile, Egypt Venture offers everything from pre-incubation and early-stage incubation programs designed for entrepreneurs that are still in the early stages of creating their businesses, to acceleration programs for those that are further along in their business growth journey. Endeavor Cairo-Alexandria, run by Orange Innovation Center, offers mentorships and investment opportunities depending on your needs.
Furthermore, Nahdet El Mahrousa (NM Incubator) offers 3 key partnership services: providing resources, tools, and working spaces that help create a strong start-up culture; offering three different incubation programs to suit the unique needs of different start-ups; and ensuring the acceleration process is fast-tracked with awards of up to $50,000. The AUC Venture Lab also offers support for tech entrepreneurs in Egypt through their 9-month accelerator program as well as training opportunities for early-phase startups delivered through their Pre-incubation Bootcamps. Finally, Flat6Labs Cairo provides mentoring services to help startups become full-scale businesses.
Incubators have become crucial to the Egyptian startup ecosystem, providing essential support to innovative new entrepreneurs. Government-backed innovation centers such as CENTECH and DIAT provide overall training and support to startups, while the SEAF MENA Accelerator Fund hands out grants of up to $50,000. Private incubators like AUC Venture Lab, Nahdet El Mahrousa (NM Incubator), and Flat6Labs Cairo also offer incubation services for entrepreneurs, along with access to resources and mentorships.
Private incubators such as AUC Venture Lab and Flat6Labs provide entrepreneurs with the necessary tools to get their businesses up and running. These services include mentorship programs, access to networks, investor matchmaking, workshops, and other resources. At CENTECH and DIAT, entrepreneurs can obtain government grants of up to $50,000 with additional guidance on the legal aspects of setting up a business in Egypt. They can also join educational courses for technical skill enhancement. Through these sources of support, incubators in Egypt are playing a crucial role in helping young companies find their feet during these difficult economic times.
Although these incubators come in different forms and from different sources, the goal is the same: to help entrepreneurs build sustainable startups that can bring economic prosperity to the region. For example, The Egyptian Young Entrepreneurs Association (EYEA) provides resources for aspiring entrepreneurs as well as access to experienced mentors who have established successful businesses. Peri-Innovation organizes boot camps featuring master classes with high-profile speakers, networking events, and mentorship sessions dedicated to supporting entrepreneurs in their business organization processes. By taking advantage of these opportunities and resources, entrepreneurs can make their dreams a reality while nurturing an ecosystem of innovation within Egypt.
These incubators have the potential to bring about positive economic and social growth within the country. By offering access to resources and promoting business knowledge, these incubators can help boost startups that could generate more employment opportunities. They also provide a tremendous opportunity for local entrepreneurs to gain valuable experience from seasoned mentors and experts who are interested in running their own businesses. Additionally, many of these visiting mentors come from different countries, allowing Egyptian entrepreneurs to benefit from a wide variety of international experiences. Furthermore, incubators give startups access to financiers and investors that can aid in launching these fledgling businesses.
Beyond providing a range of resources, best business practices, and potential contacts, incubators also provide their guest startups with the opportunity to participate in industry-specific conferences and events. Conferences such as the Digital Media Summit in Sandbox Egypt, held annually, give entrepreneurs unprecedented access to leading professionals within the sector. These events provide maximum visibility for participating companies – allowing them to network with numerous industry bigwigs from across Egypt and strategically position themselves within the local tech ecosystem. This can potentially result in receiving investments from investors that may not have otherwise been accessible. With unlimited potential at their fingertips – from gaining valuable experiences to networking and progressing their business operations – incubators present various opportunities for individuals with budding businesses in Egypt.
Despite being a relatively new trend within Egypt's tech space, incubators have become invaluable resources. By providing entrepreneurs with the tools, guidance, and networks they need to succeed, they play an instrumental role in creating conditions that are conducive to innovation and growth. As such, individuals with fruitful ideas should consider participating in local incubator programs where possible, to gain the knowledge and contacts necessary to make their businesses a reality.