BznsBuilder Expands to Iraq with Takween Accelerator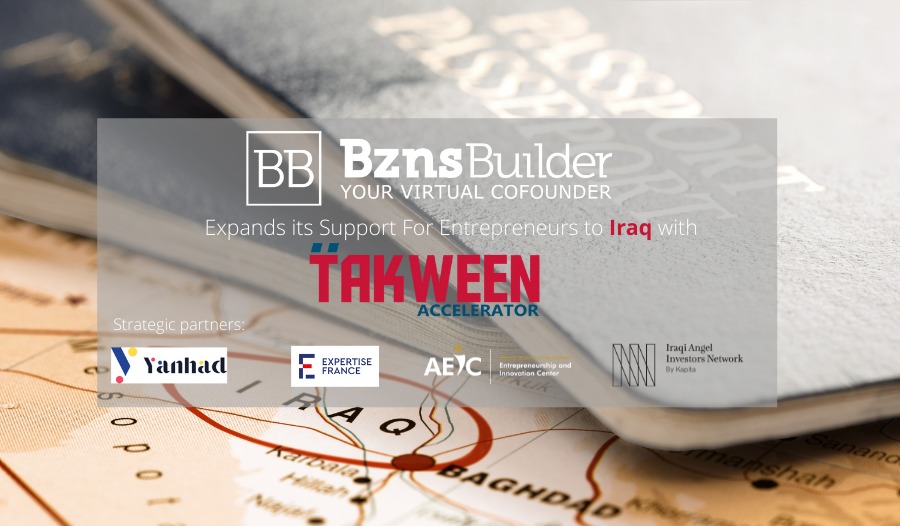 Cairo, September 05 – Building on its plan of global expansions, BznsBuilder, the leading Egyptian 360 Business Relation Management platform (BRM,) just announced its expansion in Iraq in partnership with Takween, Iraq's first and foremost accelerator program.
BznsBuilder expands its support for entrepreneurs to iraq with Takween Accelerator
Takween Accelerator is an intensive, equity-free, training program created to help growth-stage technology businesses go farther faster.
The new expansion comes shortly after BznsBuilder announcement of expanding to Indonesia and is a part of the master plan of global expansion to support startups and founders worldwide to build successful businesses.
BznsBuilder is a flagship 360 Business Relationship Management (BRM) platform that prides itself on being the startups' virtual cofounder providing businesses with step-by-step guides on building impeccable business plans. The platform automates the financial reports and charts without the need for a solid financial background. Founders can also develop their pitch decks and one-page plans, export and share them with investors.
Startups joining the Takween accelerator program will use the BznsBuilder platform to build their business plans; the platform will also help them automate their financial statements and create robust strategies. The program mentors will also be using the platform to track and monitor each startup's achievements and progress, which will help them provide meaningful support.
Riham Abu El Einin BznsBuilder, founder and CEO, commented saying "This specific partnership and expansion drives excitement more than others because it gives us the opportunity to support the Iraq startup ecosystem. We are pleased to provide our BRM product to the founders building businesses that support the development of the local economy."
Eileen BrewerE, Takween Accelerator Director said "We are looking forward to providing this advanced tool for our startups where they can document, track and present their businesses in either the online or exported PDF versions. This tool will save our founders time and increase their business acumen."
Takween PreAccelerator Program is currently open for application for its fall cycle, apply through their link.
–Ends–
For Press Inquiries
BznsBuilder PR Team
info@bznsbuilder.com
About BznsBuilder
BznsBuilder is the leading 360 Business Relation Management (BRM) platform enabling businesses to monitor all their operations in one dashboard. The platform helps businesses build, organize, and track the progress of their businesses in a single dynamic dashboard. BznsBuilder is the startups' virtual cofounder helping them create their one-page plan, pitch deck and accessing funds in an easy step by step guide.
About Takween
Takween Accelerator is a project of Yanhad, an initiative to promote civic engagement and entrepreneurship for youth in Iraq, financed by the European Union and the French Ministry of Foreign Affairs (CDCS), implemented by Expertise France and hosted at the American University of Iraq, Sulaimani.