What is the Canvas Business Model?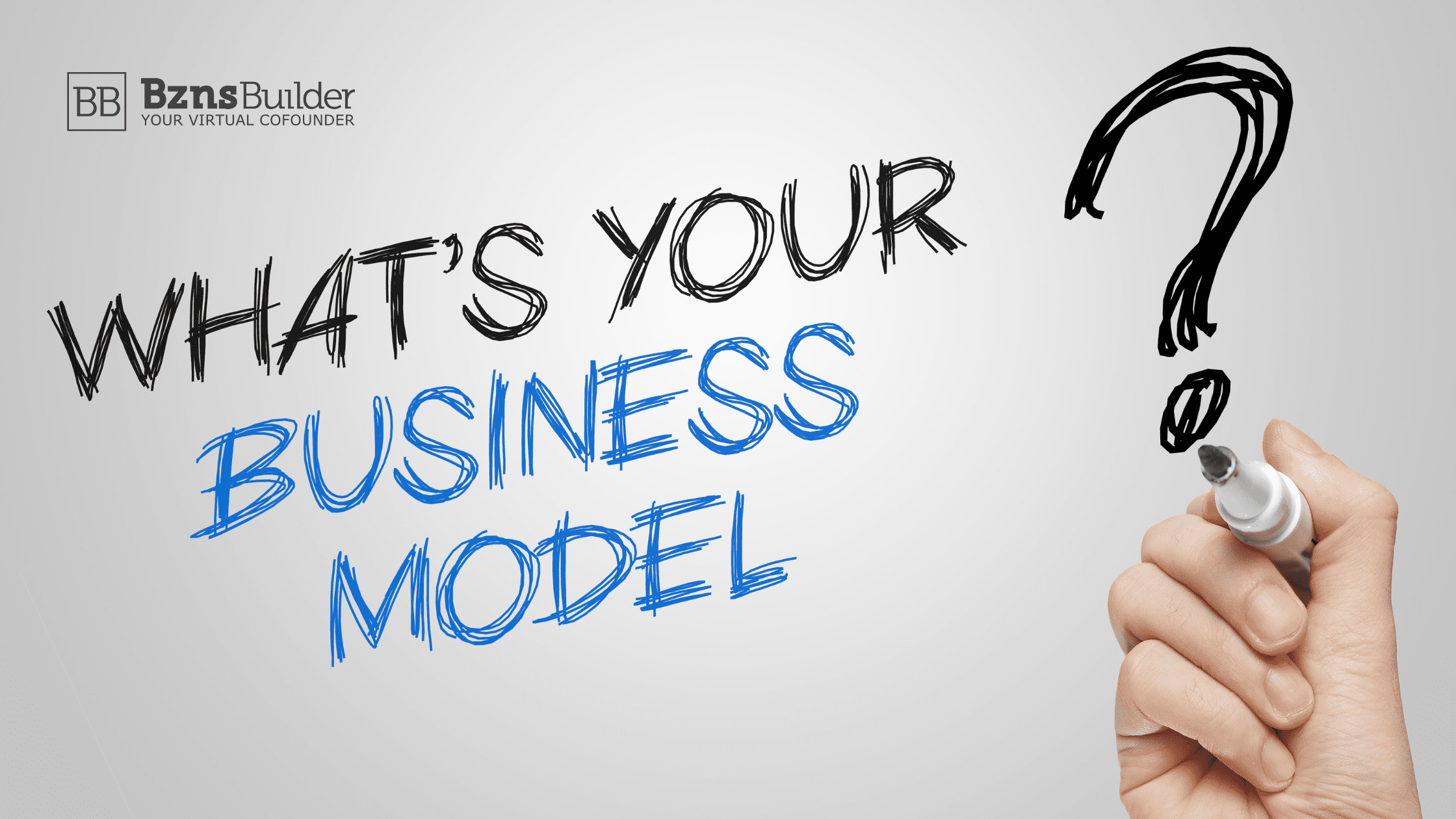 Exploring the Canvas Business Model for Startups and business project ideas.
The Business Model Canvas is a simple yet powerful tool that can help you visualize and understand your business model systematically. It allows you to identify your customer segments, value propositions, distribution channels, revenue streams, essential resources, and key activities. Armed with this knowledge, you can begin to create and optimize your business model accordingly!
When the model is laid out on the canvas, it will look like this: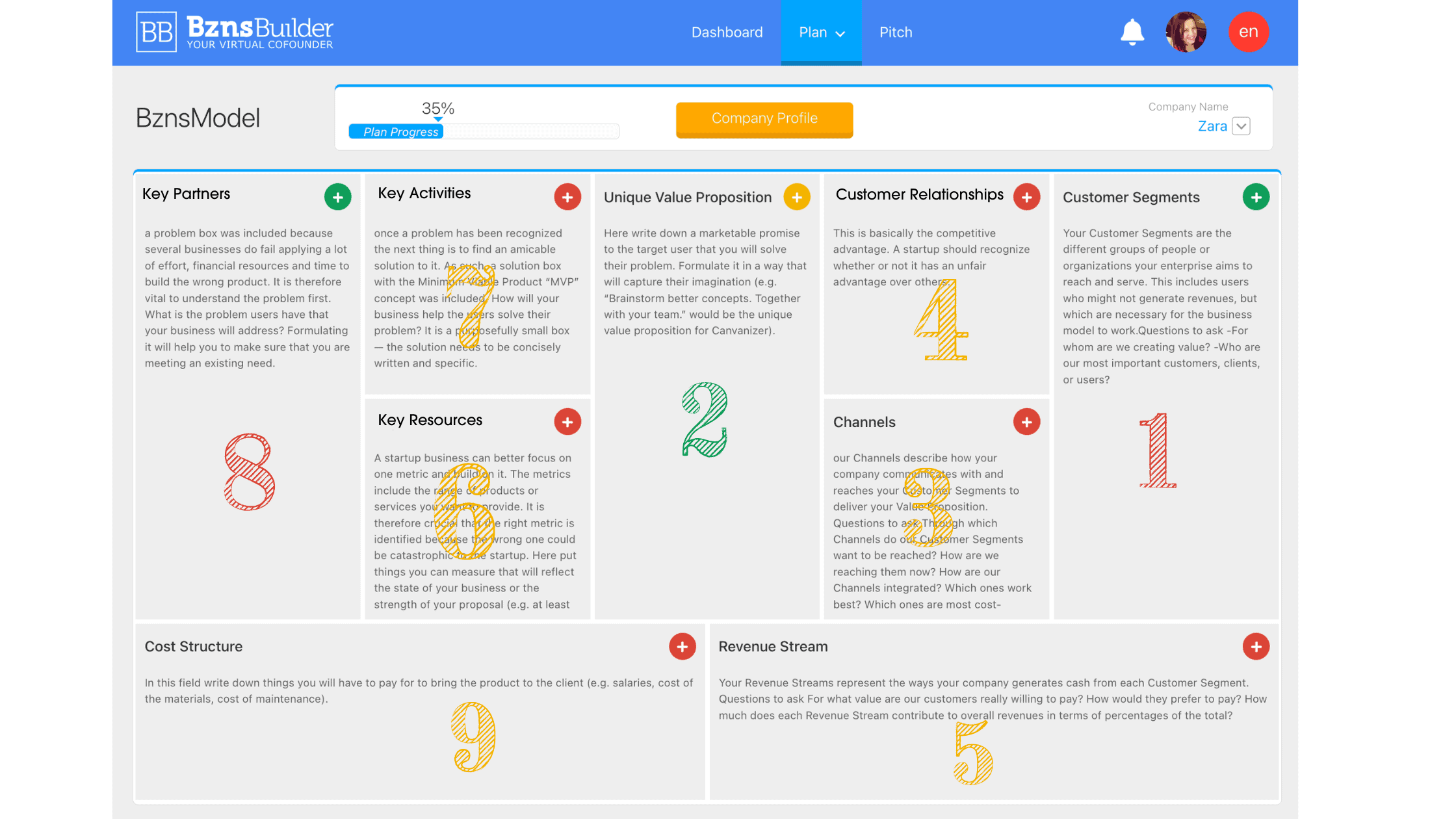 The Canvas Business Model is a useful tool for analyzing existing or developing new business models or any business project ideas. This one-page framework includes different building blocks—from the customer segments you serve to the value proposition and revenue streams—allowing you to assess your current business model or conceive of new ones with ease. By framing all the crucial elements of your business, this tool simplifies the process of planning and decision-making.
Why You Need a Business Model Canvas?
When compared to a traditional business plan, any business model canvas template gives a quick overview of the business model and leaves out details that aren't important.
The template business model canvas is easier for anyone to use and understand because it is a picture.
It's easier to change and easy to share with employees and other important people.
The template for business model canvas can be used by big companies, small businesses, or even startups 101 to get started.
It makes clear how the different parts of the business fit together.
A business model template can help you guide a brainstorming session on how to define your business model well.
You'll need an investment-ready business plan if you want to get funding for a new business or talk to potential investors, but if you don't want to borrow money, a plan might not help you at all for this stage.
This doesn't mean that business planning is useless. Planning can help you think and assist you in thinking about many different parts of your business. But it doesn't seem like business planning ahead helps once your business is up and running and you have to deal with how it works in the real world.
this is because most of the information in a business plan written before a business opens is hypothetical. You don't know how many units you'll sell or how much it will cost until you've sold and delivered them. And this is where a business model canvas will be very helpful. You may also find that a concept or idea plan will be very helpful later on when you're ready to dive deeper into your financial model.
Once the business or income stream is up and running, you have a much better idea of the numbers and can make a more accurate plan and projections. a lean business plan is a must at this stage to keep your business accelerating and growing.
If you want to raise money, you could look at our Raise Capital package, which was made to funding for startups.
How to fill out the Canvas Business Model?
The common question is, how to make a business model? To start your Canvas Business Model, you will need to break each building block down and look at it.
A good way to do this is to get the heads of marketing, sales, operations, finance, and manufacturing (if the business is product-based) together and schedule a morning when everyone can meet.
Then, draw a fake canvas on a whiteboard and talk about each of the 9 building blocks and how they apply to your business. You can better organize your thoughts around the canvas by using sticky notes.
Don't worry if you're an entrepreneur or new business owner who works alone and doesn't have a team to bounce ideas off of. You can still do your analysis before sending it to one of BznsBuilder's business coaches for FREE to get useful, insightful feedback. Book Your Free Session from this link.
For the sake of clarity, we will analyze the crucial building components using the well-known apparel retailer Zara as an example of a business model canvas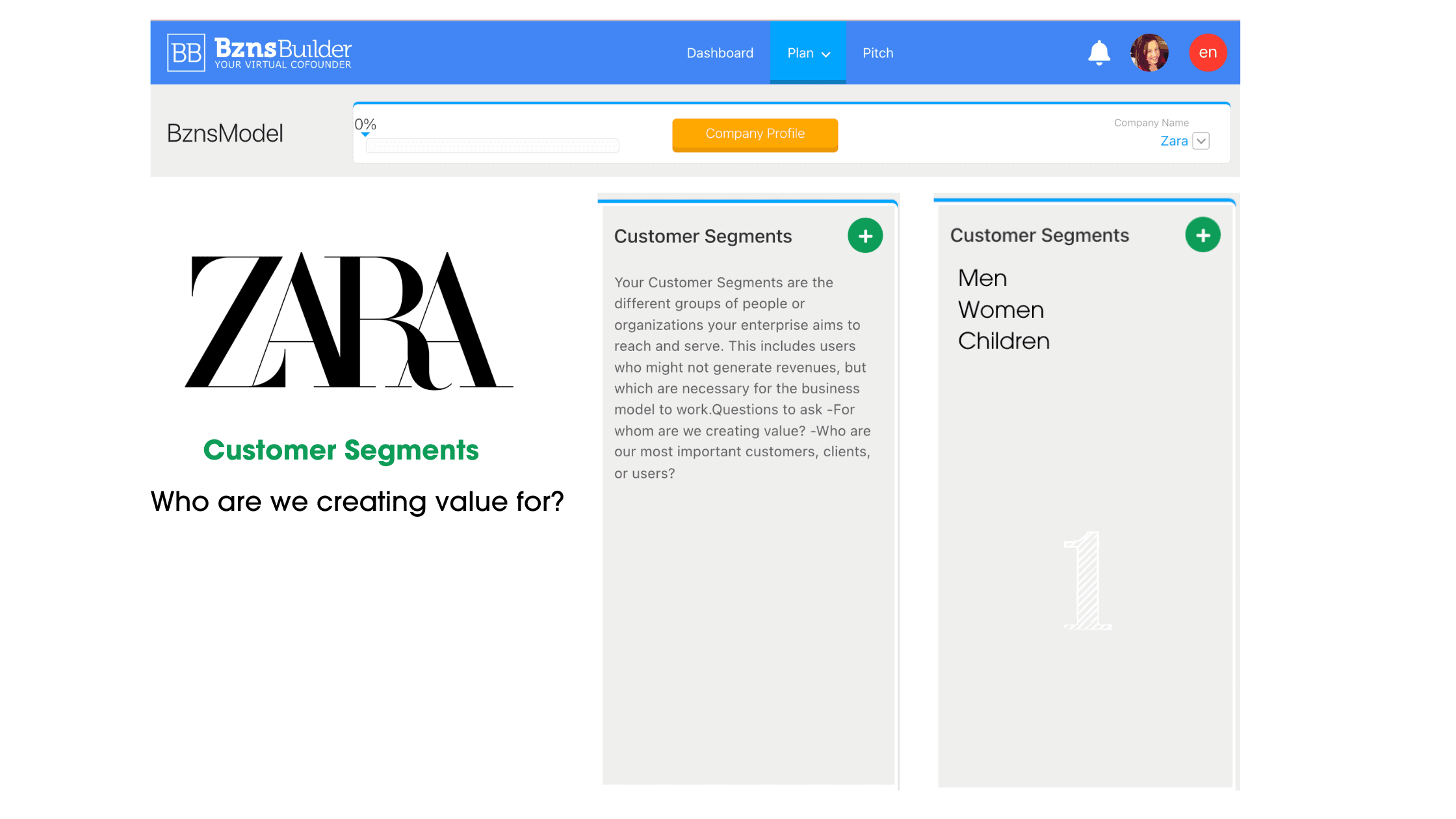 In the first part of the Business Canvas Model, you need to figure out who your most important customers are. Or, to put it, who are they? How do they live? And why should they buy what you're selling or hire you?
Since no business can exist without customers, the best place to start when making your business model canvas is with customer segments.
Creating your company's buyer persona is a great way to figure out who your different types of customers are (s).
Buyer personas are made-up pictures of an ideal or made-up customer. When creating a buyer persona, you usually want to define certain traits (age, demographic, gender, income, industry, pain points, goals, etc.)
But keep in mind that we want a quick look at our customer segment at this stage. You don't need to go into a lot of detail yet.
Zara has 3 different types of customers to whom they offer other products. Men, Women, and Children
The clothes, shoes, and accessories that are made for each of these groups of customers cannot be used by other groups. That is, a 7-year-old child is not likely to wear a dress made for a woman.
Once we know who we're trying to reach, we can look at what our company has to offer.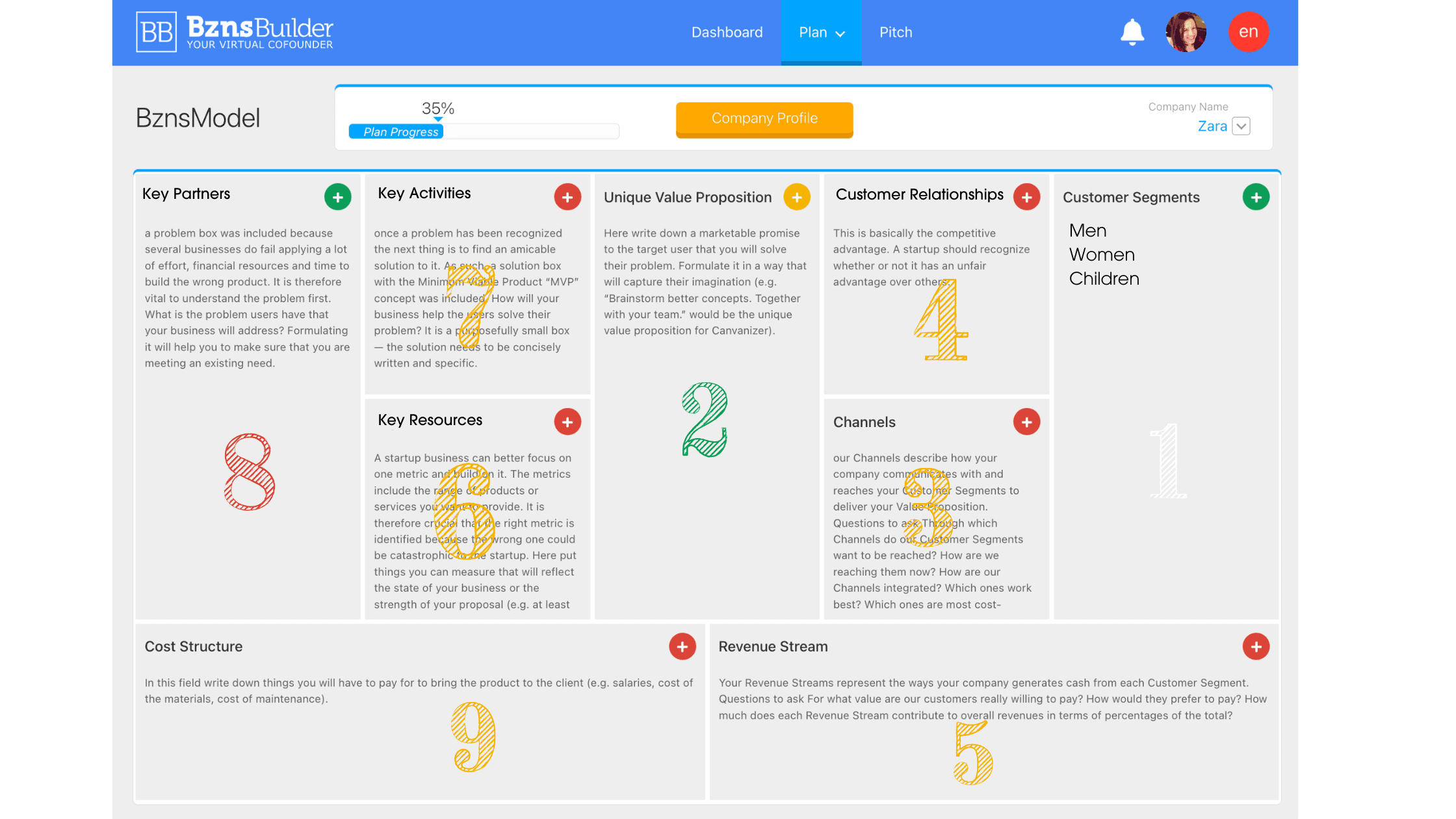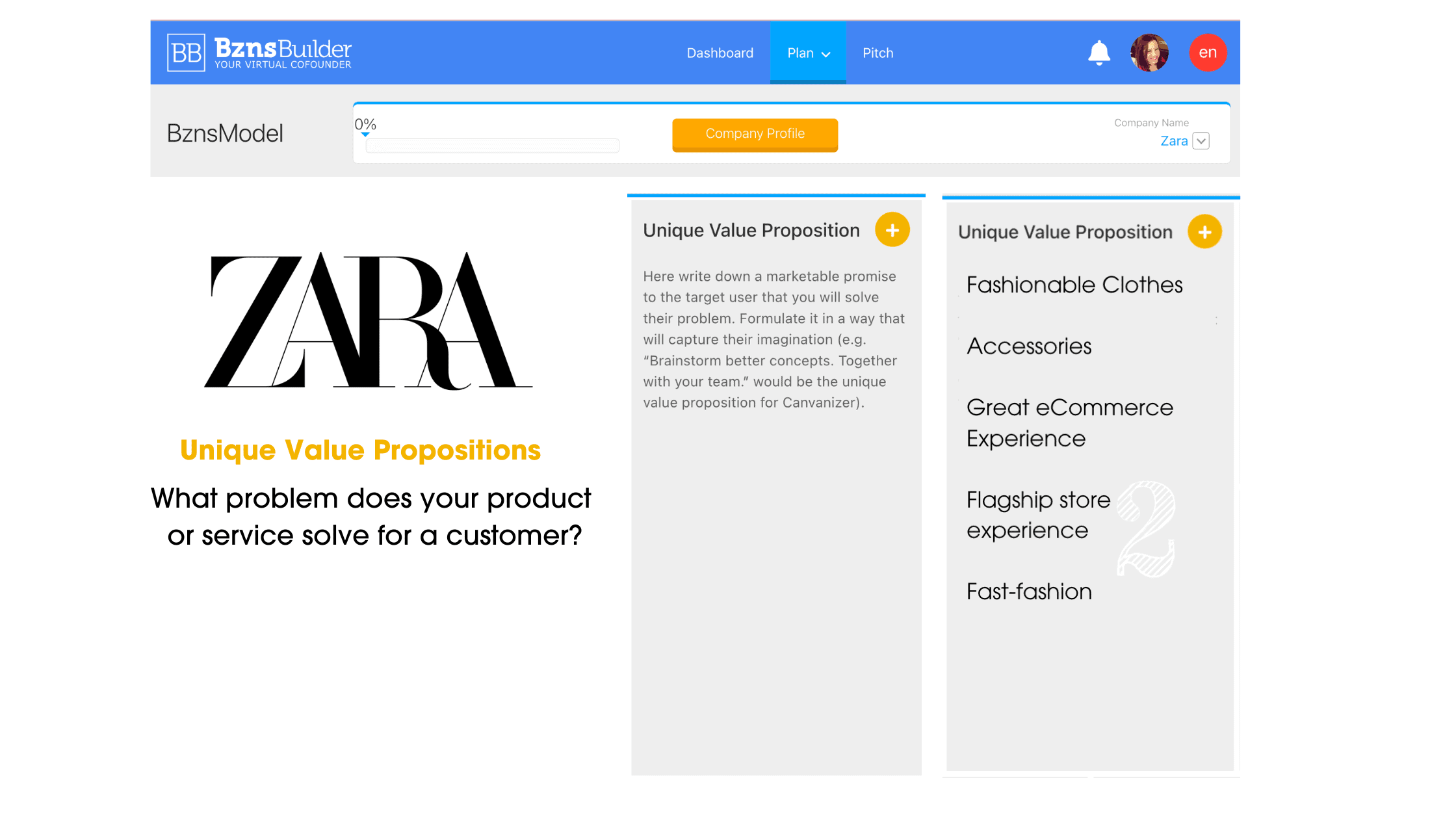 In the second step, you need to figure out your company's value propositions and, most, its unique value proposition (unique value proposition). What is it about you that makes people choose you over your competitors? How good are you at solving their problems?
Each value proposition is a group of products or services that meet the needs of a buyer persona from your customer segment. It's the place where what your company sells meets the reason or urges that customers have to buy.
Some of the most common questions to ask when figuring out your UVP are:
What problem are you trying to solve for a specific customer?
What job are you helping people finish?
How does your unique selling proposition solve customer problems?
What services or products do you offer that solve this specific problem?
So let's try to use this idea with Zara. Why do people buy from them instead of one of their competitors?
The main things that Zara has to offer are pretty clear. They sell stylish clothes and accessories for men, women, and children at prices that are easy on the wallet.
But it's not as simple as that.
If we look a little closer, we can see that Zara's value propositions are more complicated, which is what makes the brand so successful:
Fast fashion
Every two to three weeks, Zara adds new clothes and styles to its stores and website. It keeps the brand up-to-date, fresh, and modern while keeping the all-important price point in the middle.
Great online shopping experience
When you go to Zara's online store, it looks and feels clean, high-end, and easy to use. Customers can see the different types of customers on the left navigation bar, which also has a tab for searching.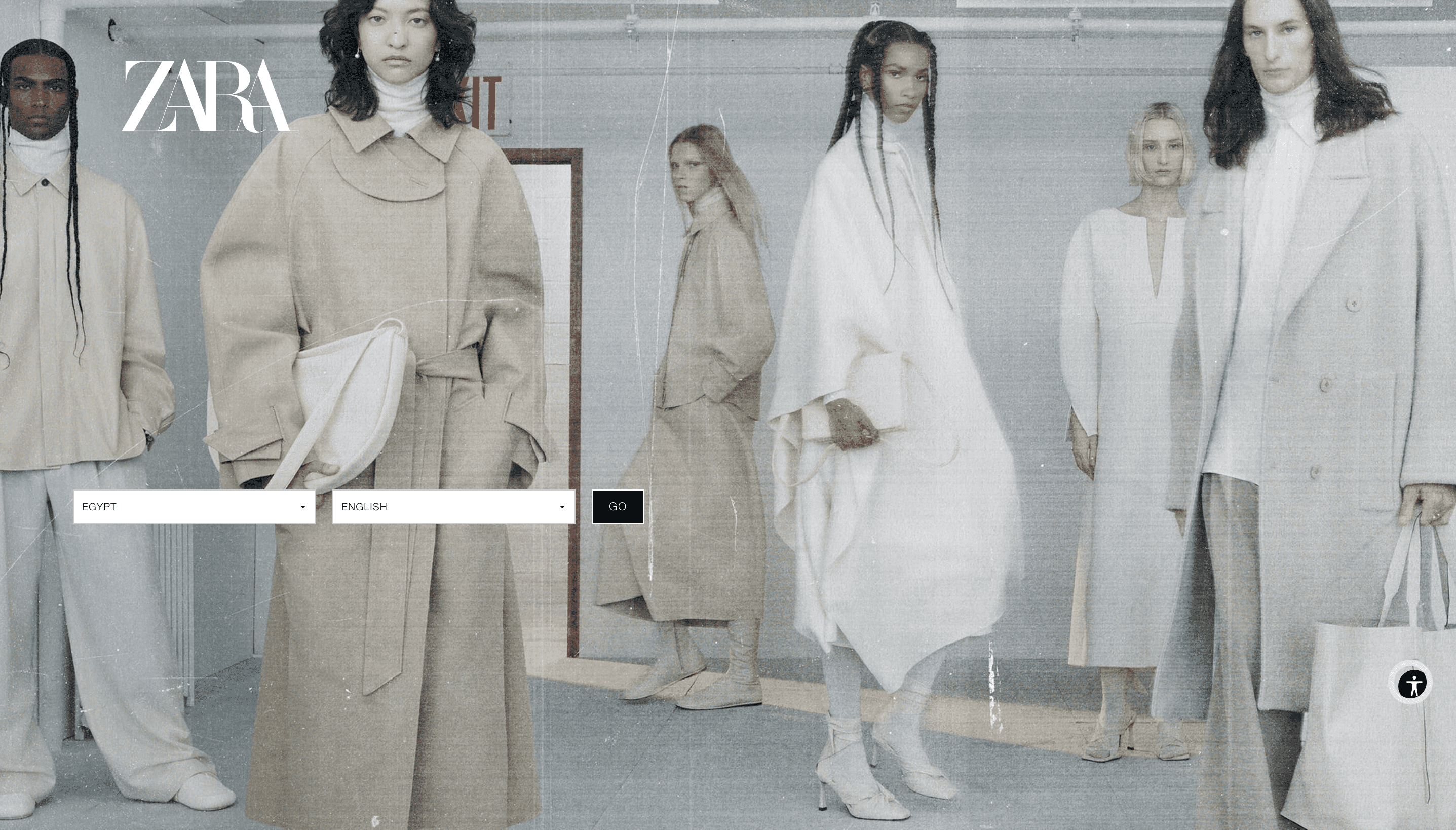 Stores near you
You can find a store in almost all major shopping areas (shopping malls, retail outlets, airports, etc.), so most people don't have trouble getting to them.
Flagship shops
Zara's flagship stores show customers how its style has changed over time. Their Hudson Yards store in New York City, which opened, is a great example of this. Customers shop in its bright, simple layout, which is in line with the brand's deeper, values.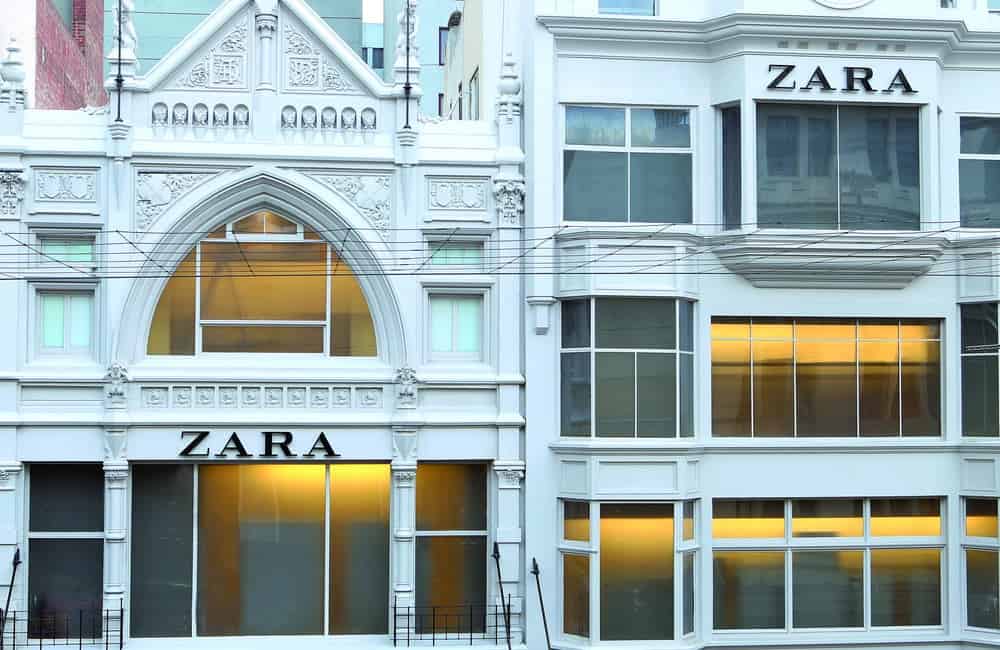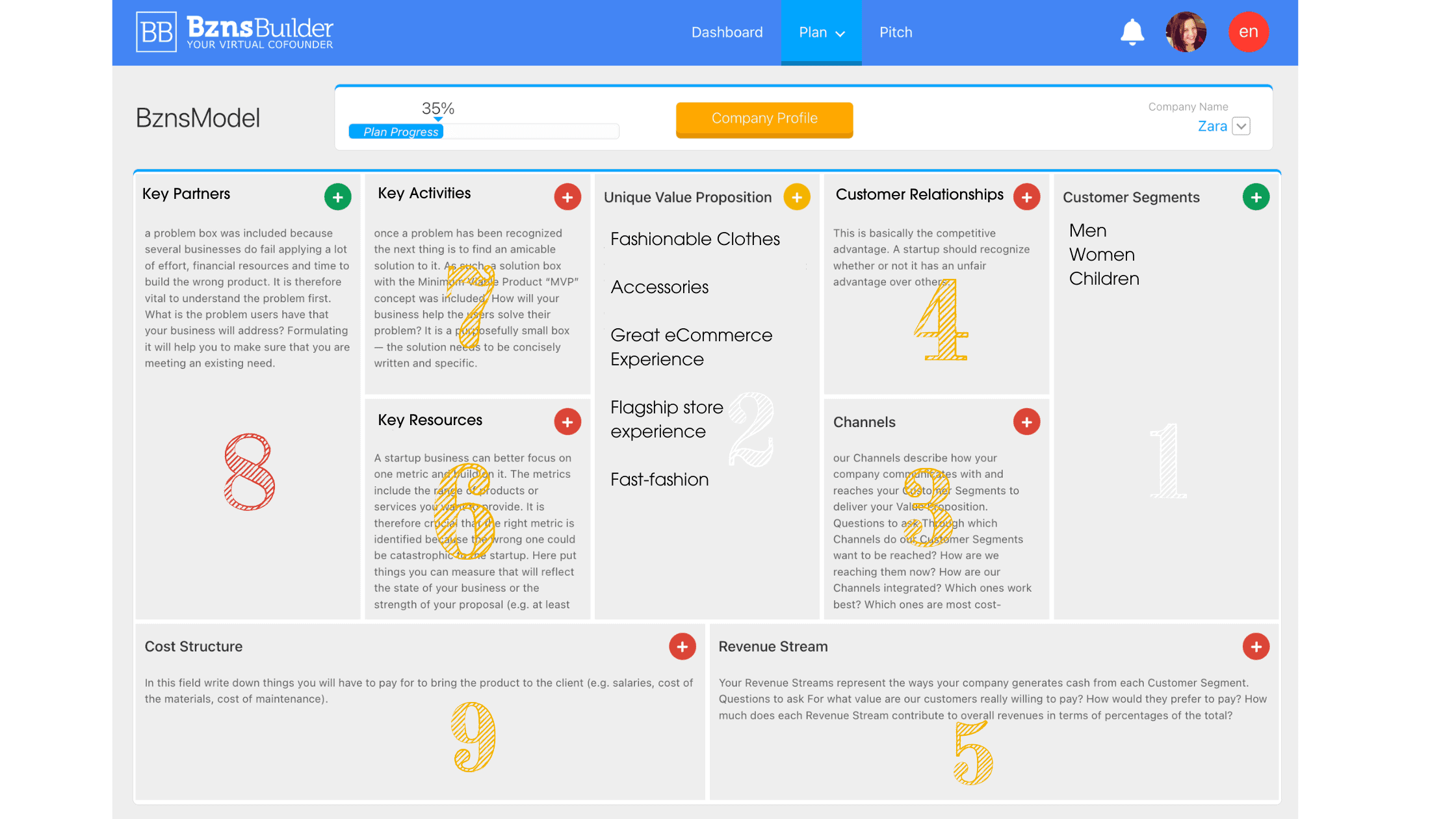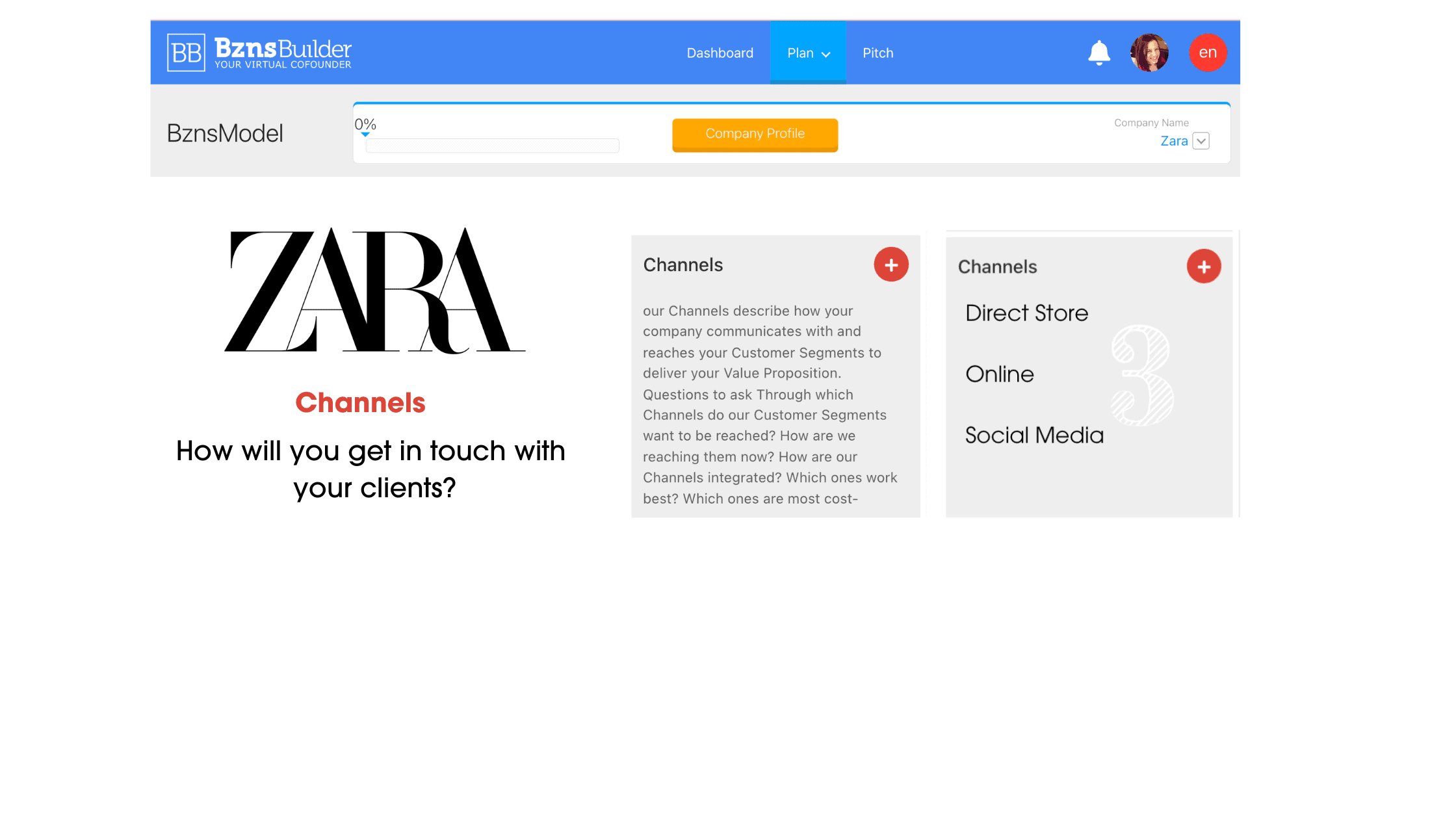 The next step is to think about how you reach out to your customers and what channels you use.
This includes both how your customers want to talk to you and how they want to get your products or services.
Is it going to be a channel that you can touch? (store, field sales representatives, etc.) Or is it something digital? (mobile, web, cloud, etc.).
Zara has 3 main ways to get in touch with and send products to its customers:
1- Their stores are where they do direct sales.
2- Online (both app and website) (both app and website)
3- Social media
Customers can go to a traditional "bricks and mortar" store to look at clothes, try them on, and buy them.
They can also shop online or through their mobile app and have the product sent right to their door or the store nearest them. They can choose anything they want!
So, we've talked about Zara's business channels. What about how they talk to their customers?
They do talk through their mobile app, but social media is where they mostly talk.
Even better, they are very, very good at it.
Did you know that Zara spends less than 0.3 percent of its sales on advertising?
This is only possible because they have an A-level presence on social media. Not only are customer questions answered quickly, but suggestions for changes are sent back to headquarters and given to in-house designers, who use the information to improve future collections.
By putting the customer first and making communication easy, they have saved thousands of dollars on marketing, made their brand stronger, and built a base of loyal customers.
You shouldn't move on from this building block until you know how to reach each of your customer segments.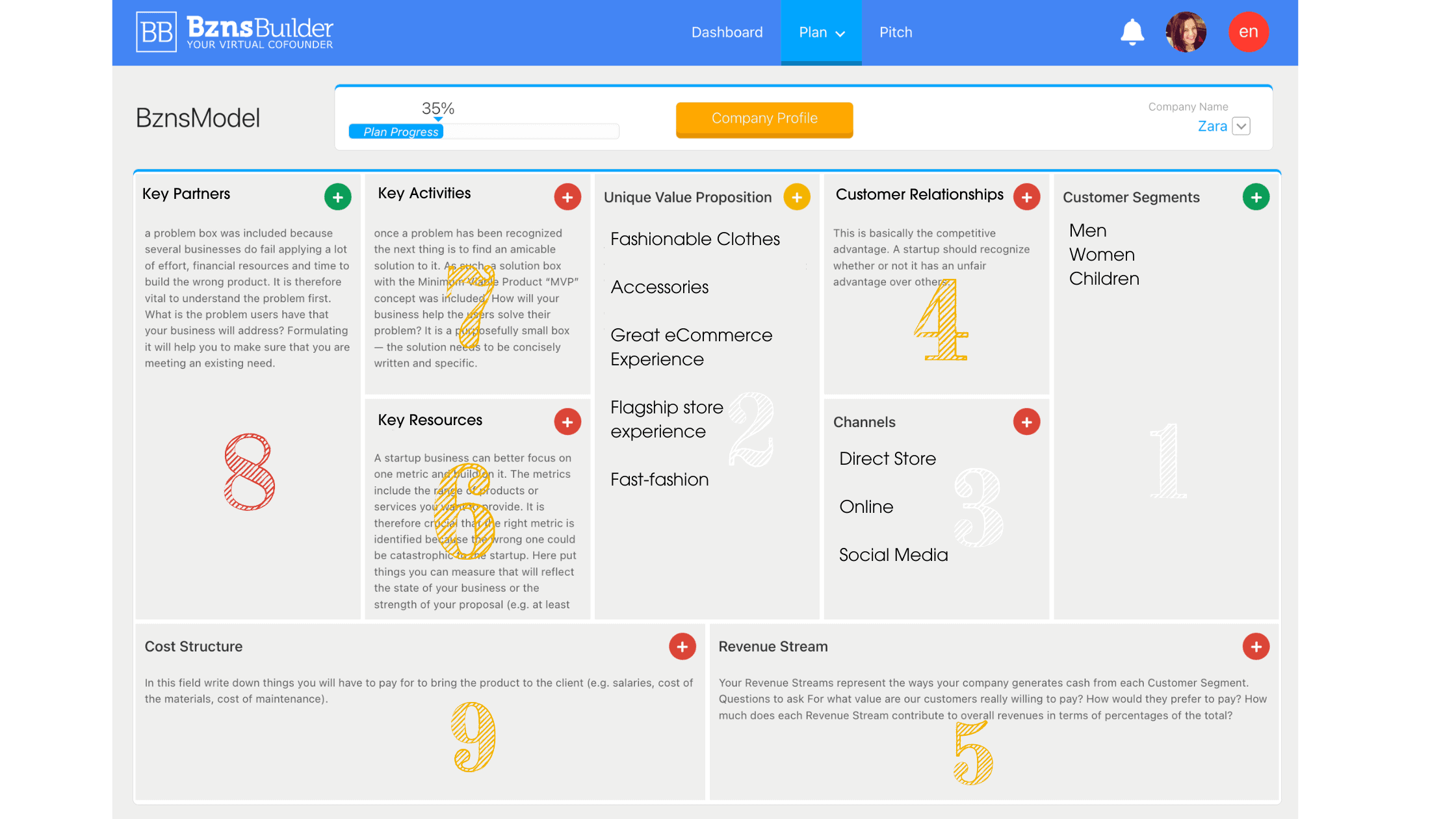 4- Customer Relationships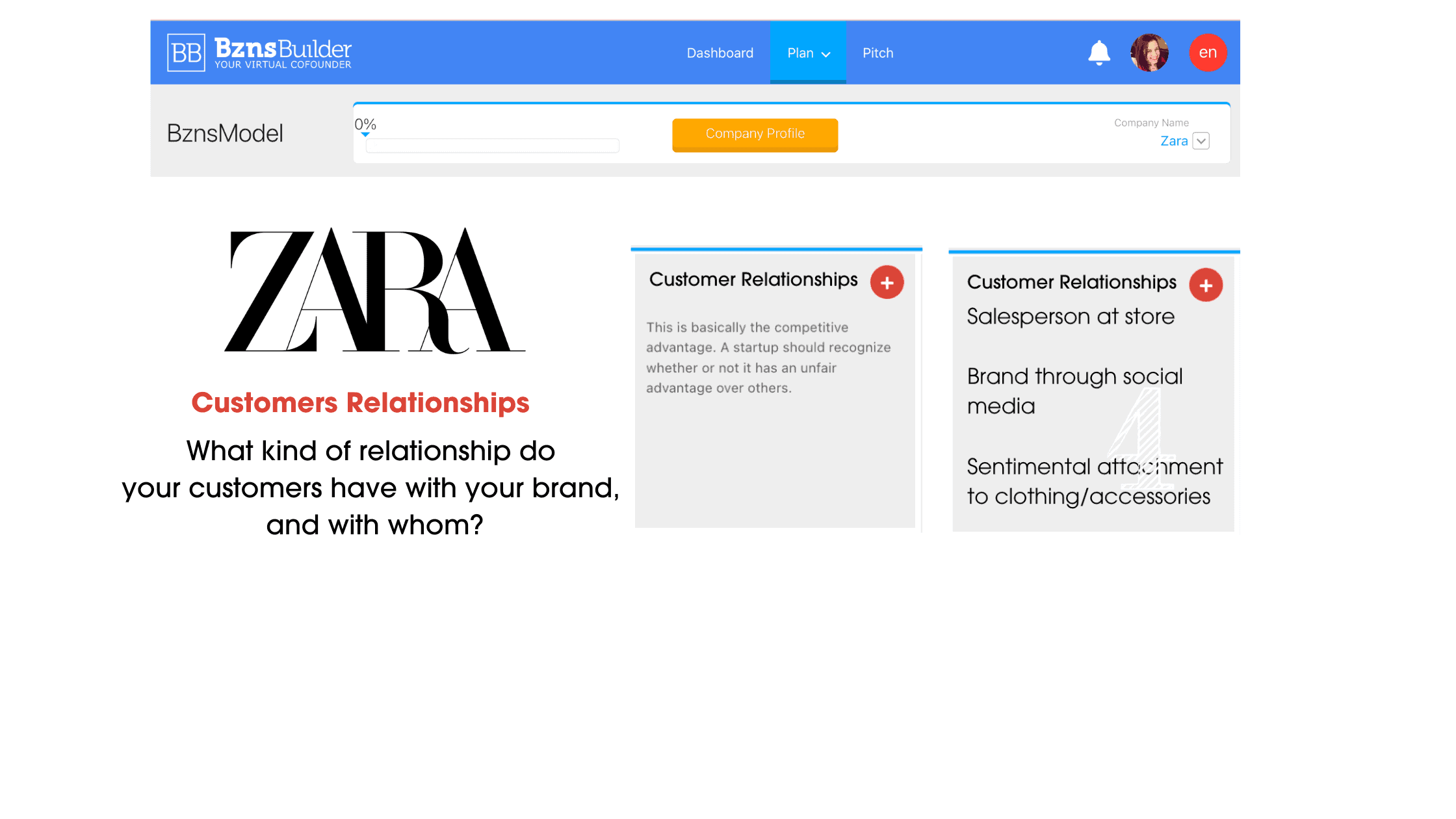 Once you have customers, you will need to figure out how to build, maintain, and grow your relationships with them.
Now, this can be done in a transactional way, like Amazon or Alibaba. Or, it could be on the other end of the spectrum and require a more personal relationship, as you'd have with a bank or bike shop.
Zara has three kinds of relationships with its customers that are somewhere between business and friendship:
– Salesperson in a store
– Brand through social media
– Emotional attachment to a product
Yes, there is the first transactional touchpoint in the store or online. This is an impersonal point of contact with the brand, and for many people, it will be the only one.
But customers are encouraged to keep interacting with a brand through social media, especially in the fashion industry.
We've already talked about how Zara's communication system works when we talked about channels. People can get in touch with the brand right away, and they can also interact with new posts, images, and collections that are put on social media.
This personal way of building relationships with customers can sometimes lead to the growth of brand ambassadors and communities on their own.
Customers can also get attached to certain pieces of clothing or accessories from one of their collections. The emotional connection to these products could also make people loyal to the brand.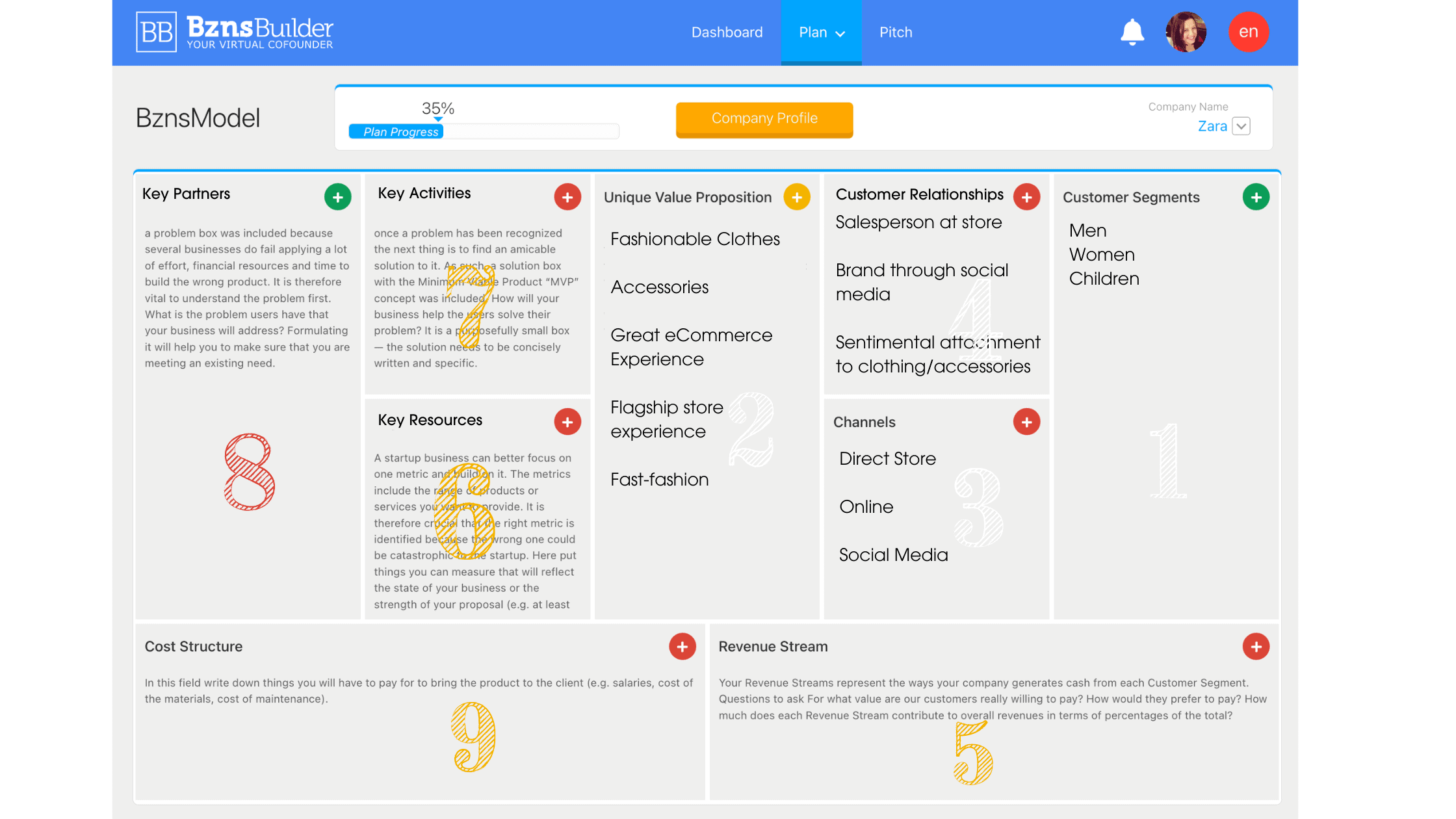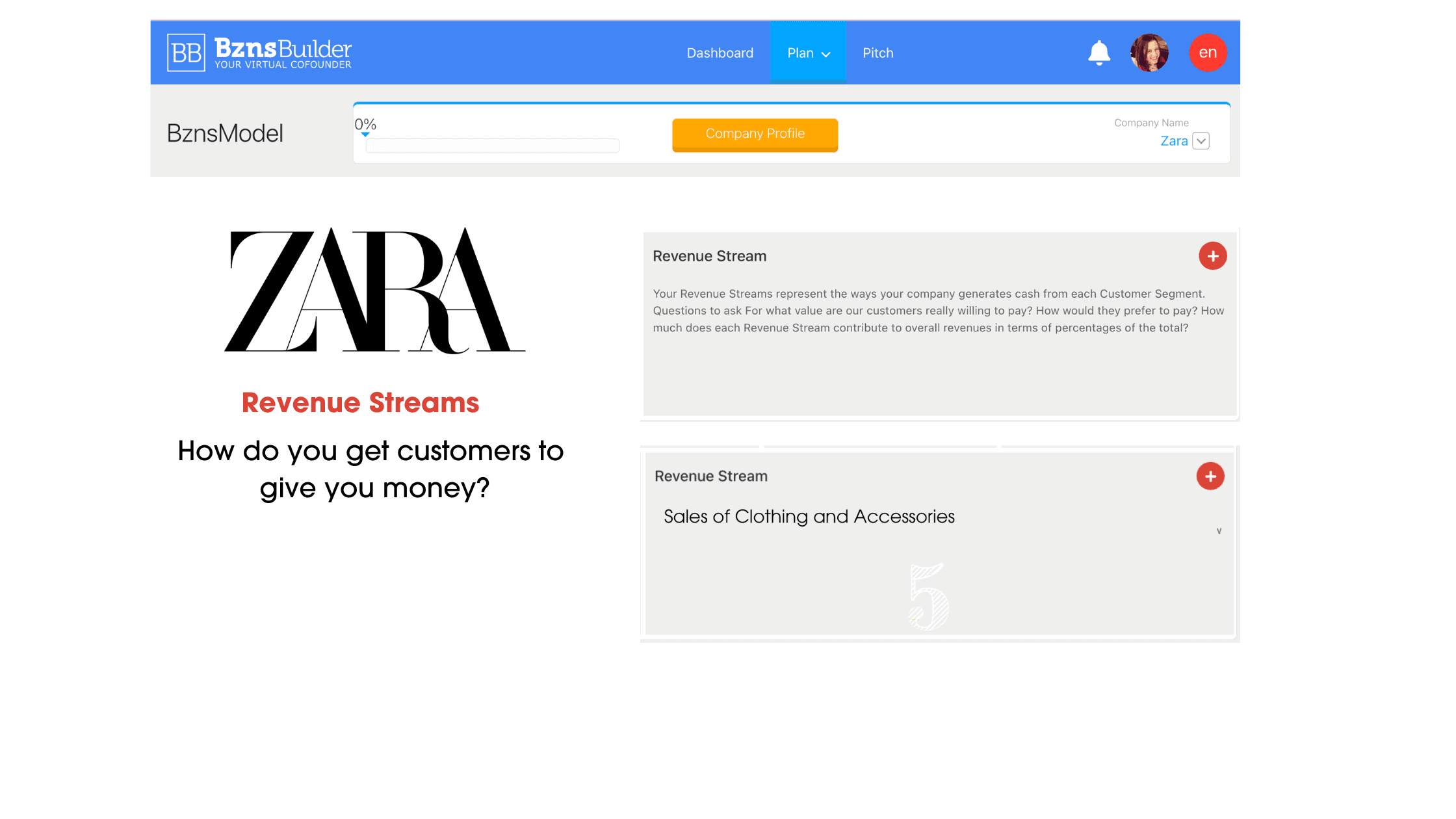 Now that you've talked about how you'll give your customers real value, it's time to think about how you'll get that value.
What are your sources of income? Is it going to be a direct sales strategy based on transactions? Will you think about a freemium model, in which you give away a part of your product or service for free with the goal of making a sale later on?
If you're a SaaS company like SalesForce or Strava, a licensing or subscription model is the best way to make money.
At Zara, everything is very easy. They make money by selling clothes and accessories in stores and on the internet.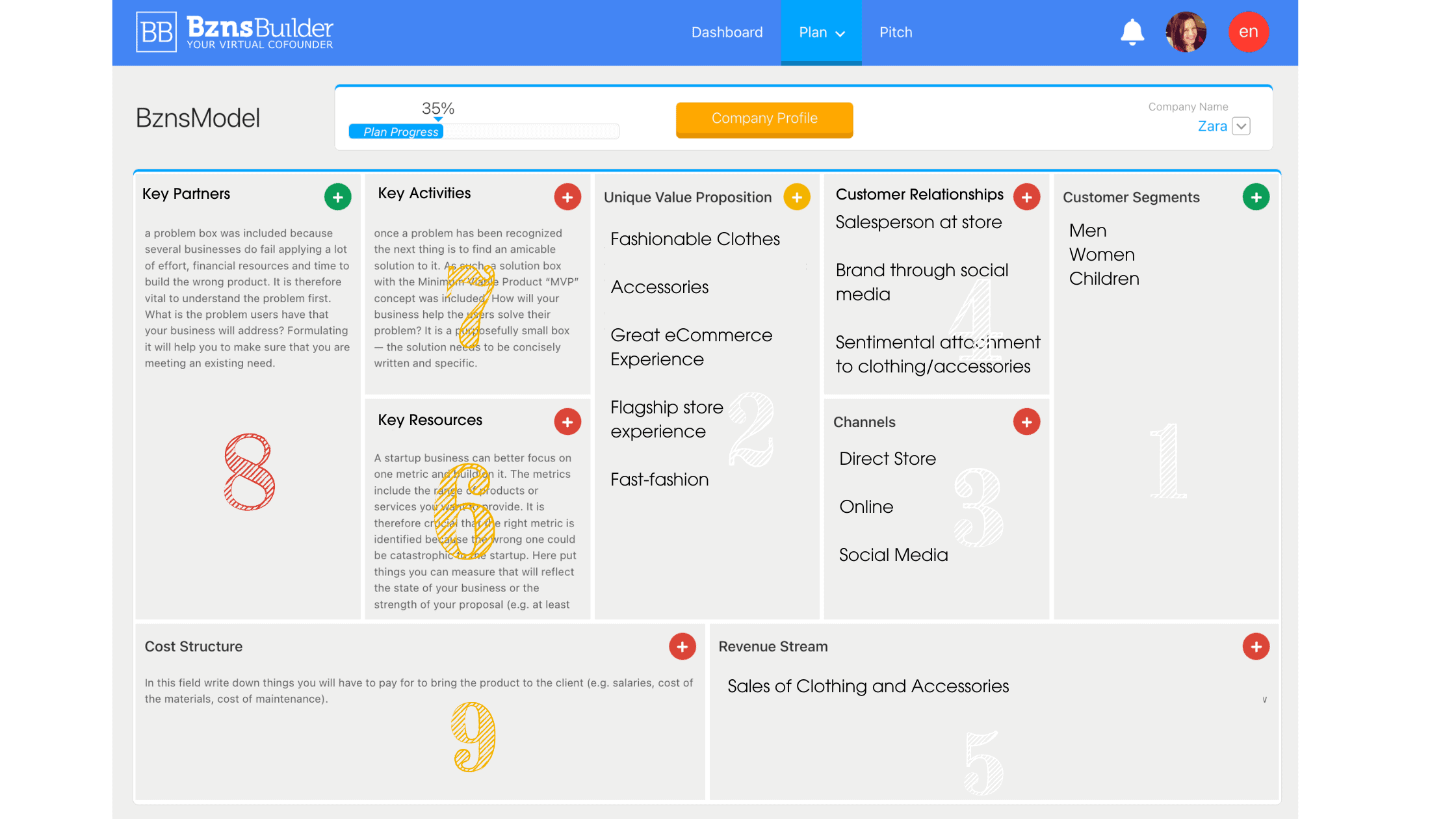 As you can see, the whole right side of our business model canvas is filled in. We talked about:
1- Customer segments
2- Value propositions
3- Marketing
4- Sources of money
5- Channels of distribution
Now it's time to move to the left side of the business canvas model and look at what we need to deliver our value propositions.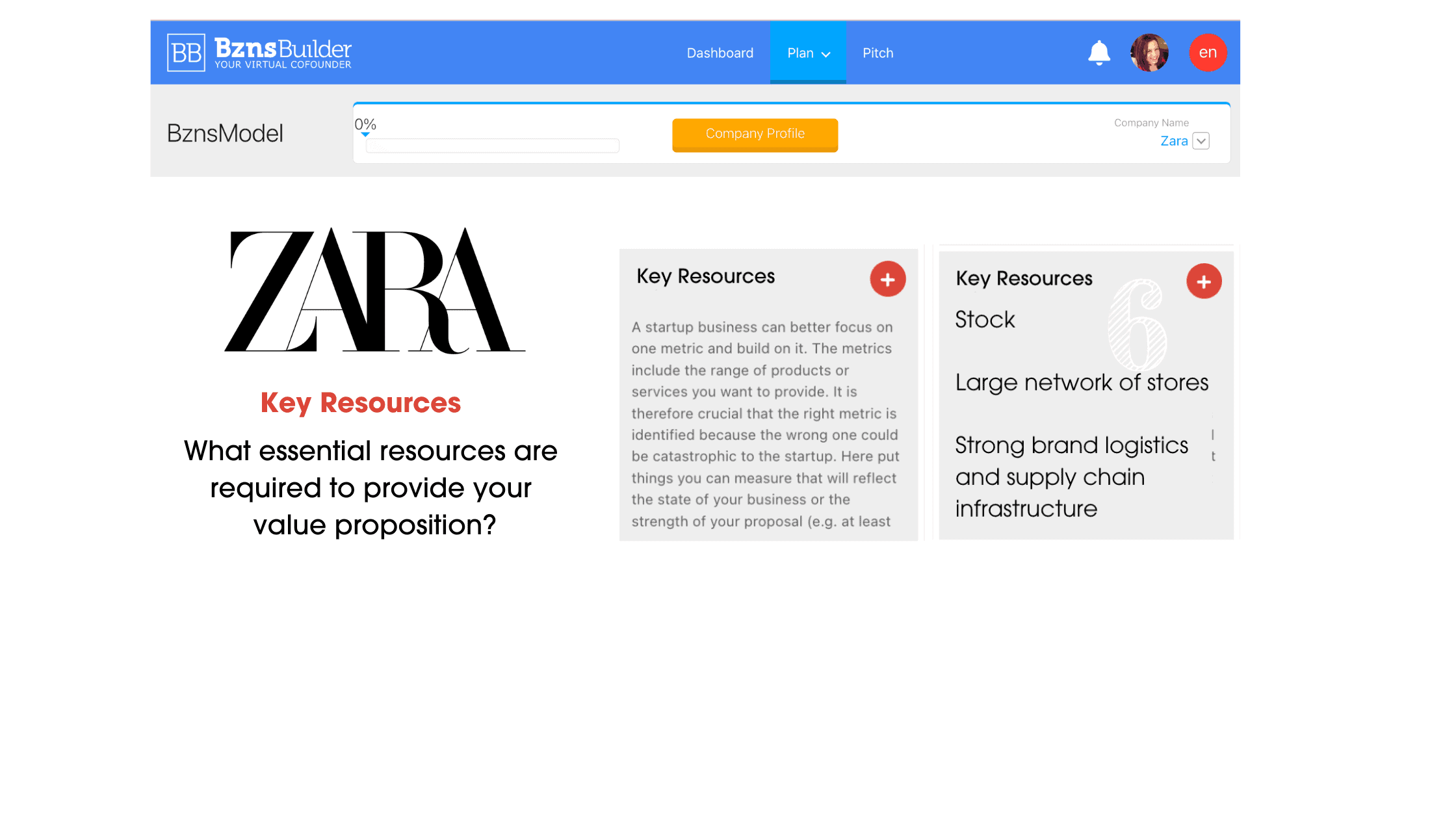 First, let's look at some important sources.
All the things you need to have, or the assets you need to have, are the key resources.
This could include anything from intellectual property (patents, trademarks, copyrights, etc.) to physical holdings (factories, offices, delivery vans, etc.) to finances (the initial cash flow needed to start your brand).
Human capital is another important thing that every business needs to think about. Will you need software engineers who are very good at what they do? Or sales teams that travel?
They need a lot of money and need to take into account in your business plan.
In the case of Zara, they will need many important resources to carry out their plans:
1- Stock management
2- A large network of stores that are all connected to each other
3-A well-known brand
4- Logistics and the infrastructure of the supply chain
Both online and offline customers need to know what's in stock.
If they can't offer the products their customers want and meet their needs, customer satisfaction goes down and they have a big problem on their hands.
A strong brand name and a large network of brick-and-mortar stores help to counteract these factors and support any ongoing marketing and communication efforts.
Zara needs to have a good logistics system. This is especially important when you think about how complicated such a large-scale operation is.
They will need the right technology to analyse data on inventory, storage, materials, production, packaging, and shipping, as well as the people to handle each step and make sure the finished products get to the right places on time.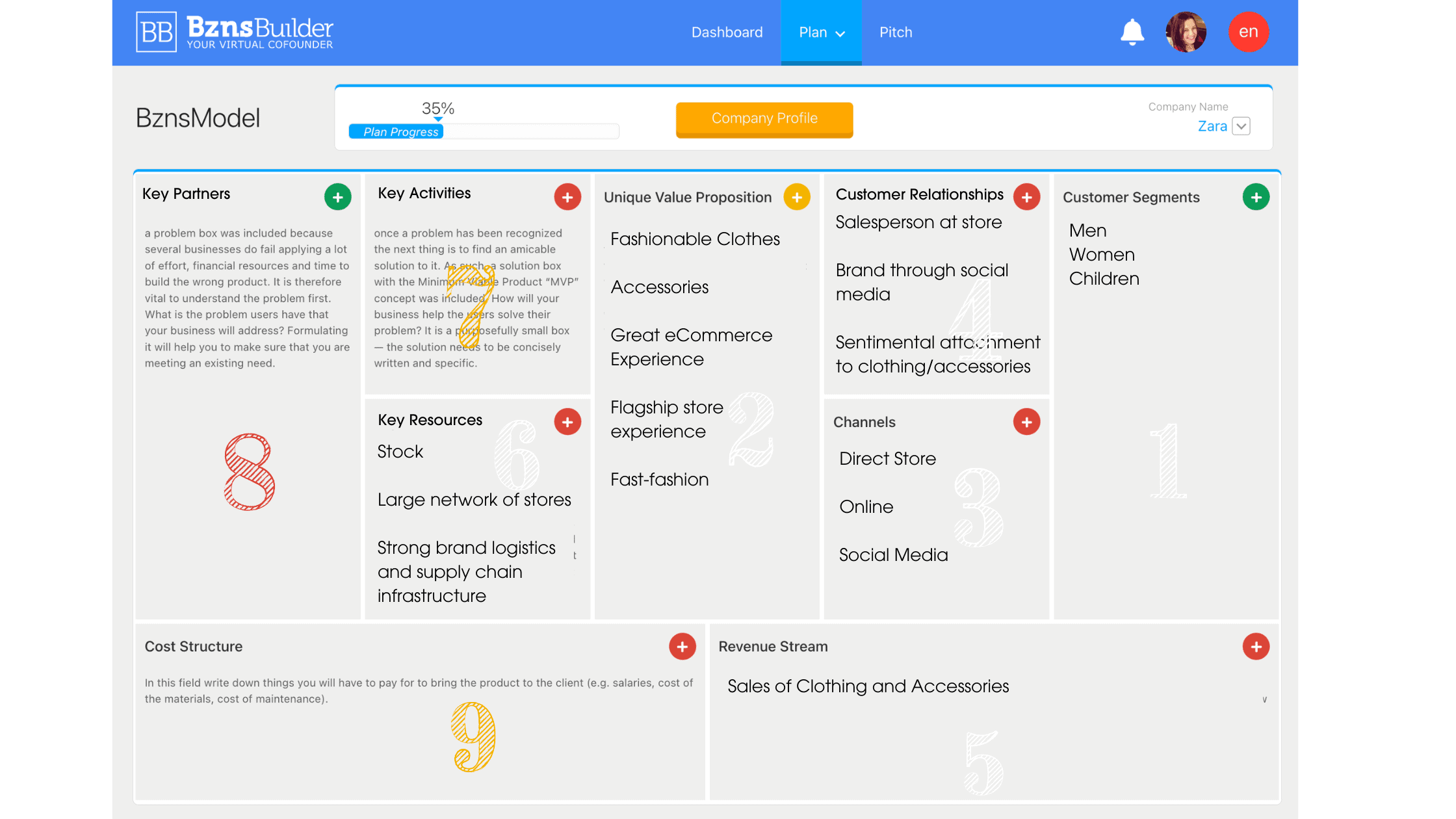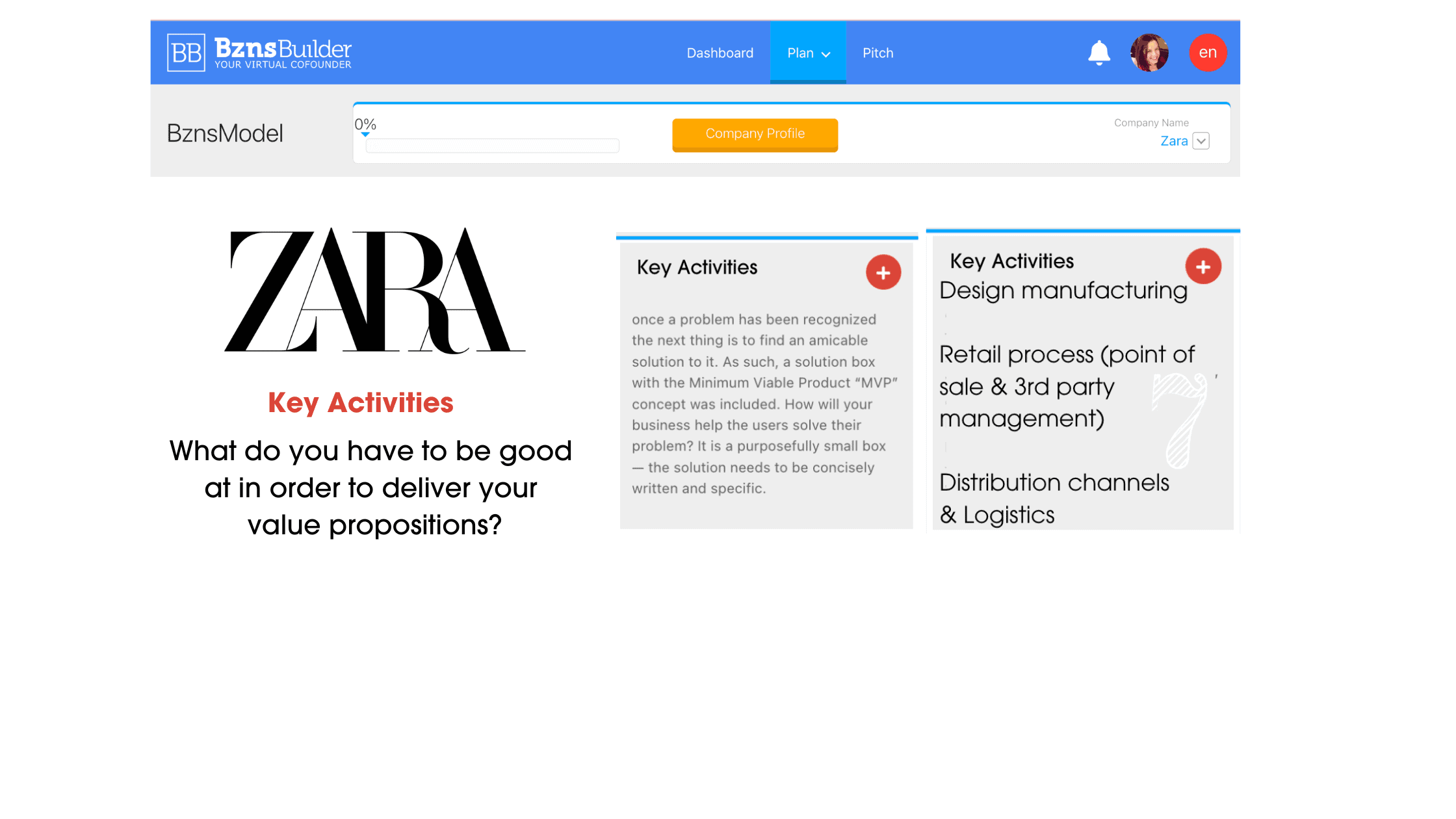 The next step is to figure out what your key activities are. These are the things you need to be good at if you want to give your customers value.
To change things up a bit, let's look at Uber, which is a different business.
The main things they do can sum up as:
1- Making web and mobile apps
2- Driver recruitment
3- Marketing: how to get customers
4-Customer service activities, such as how drivers rate, what happened, etc.
They need a fast, easy-to-use user interface (UX) for their customers who use the app. They also need drivers to carry out their service and the ability to market the product and answer any questions from customers.
Uber's main tasks will be different from those of Zara. Some of the things they should think about are:
1- Designing and making
2- Retail process (point of sale and 3rd party management)
3- Distribution channel/logistics
Zara's value proposition is to sell stylish clothes at low prices, so the design is a key activity. Their collections have to change all the time to keep up with the latest fashion trends.
To make their collections, Zara will also need to be able to make things. Now, Zara doesn't have their own factories (we'll talk about that in the Key Partners section), but they still need to be a part of how they make clothes.
Everything has an effect on the final product, which they then have to sell. This includes choosing the fabric, making the pattern, adding details, and dying it.
The key is also the good management of retail and distribution channels, such as online, offline, shipping, and communication with providers. If any of these things go wrong like if the business can't get along with an important supplier, the business will hurt.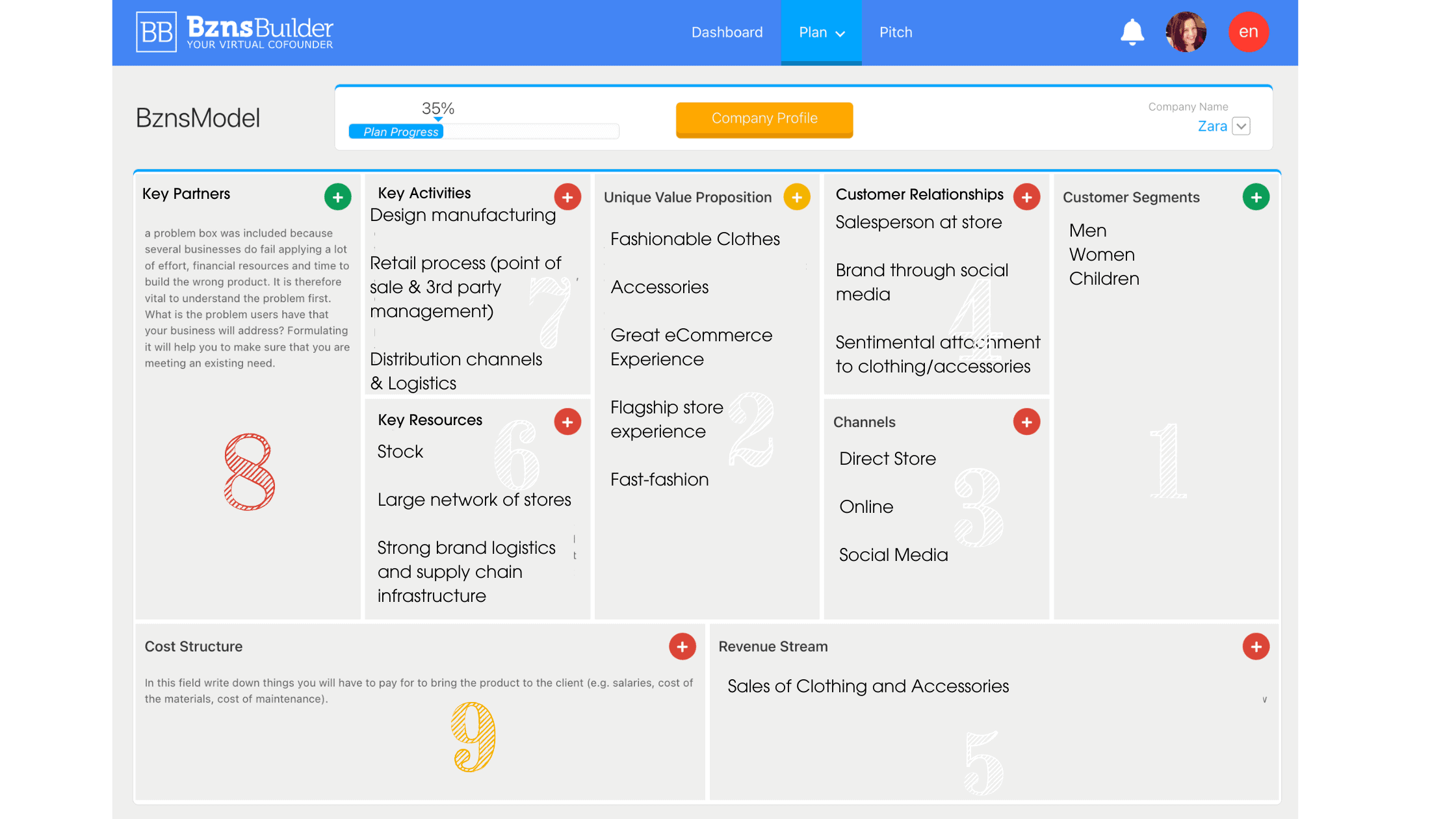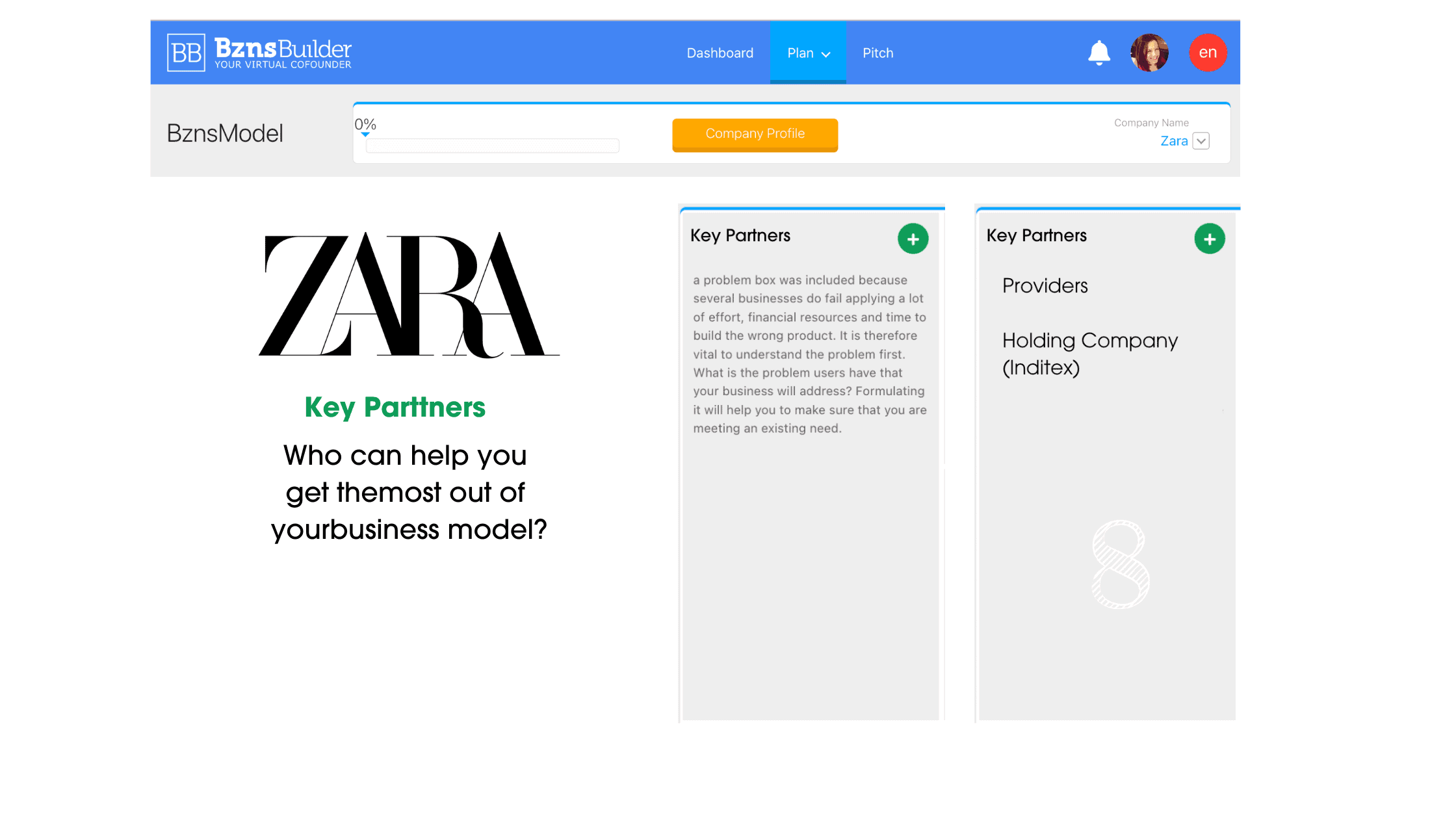 In most modern business models, brands need to build out their business and work with many key partners to get the most out of their business model.
This includes normal relationships with buyers, sellers, and producers, as well as partnerships like joint ventures and strategic alliances without equity.
As we mentioned when talking about key activities, Zara needs strategic partnerships with a lot of different providers to design and make their collections.
Inditex, their largest holding company, is also a key partner.
Massimo Dutti, Pull & Bear, and Oysho are all companies that are owned by Inditex. Being a subsidiary of Inditex means that they share a consolidated balance sheet, stakeholders, management and control, and many legal responsibilities.
As a subsidiary, Zara has some freedom when it comes to design, delivery, and running the business in general. Yet, the company's strategy needs to be in line with that of Inditex and its other subsidiaries.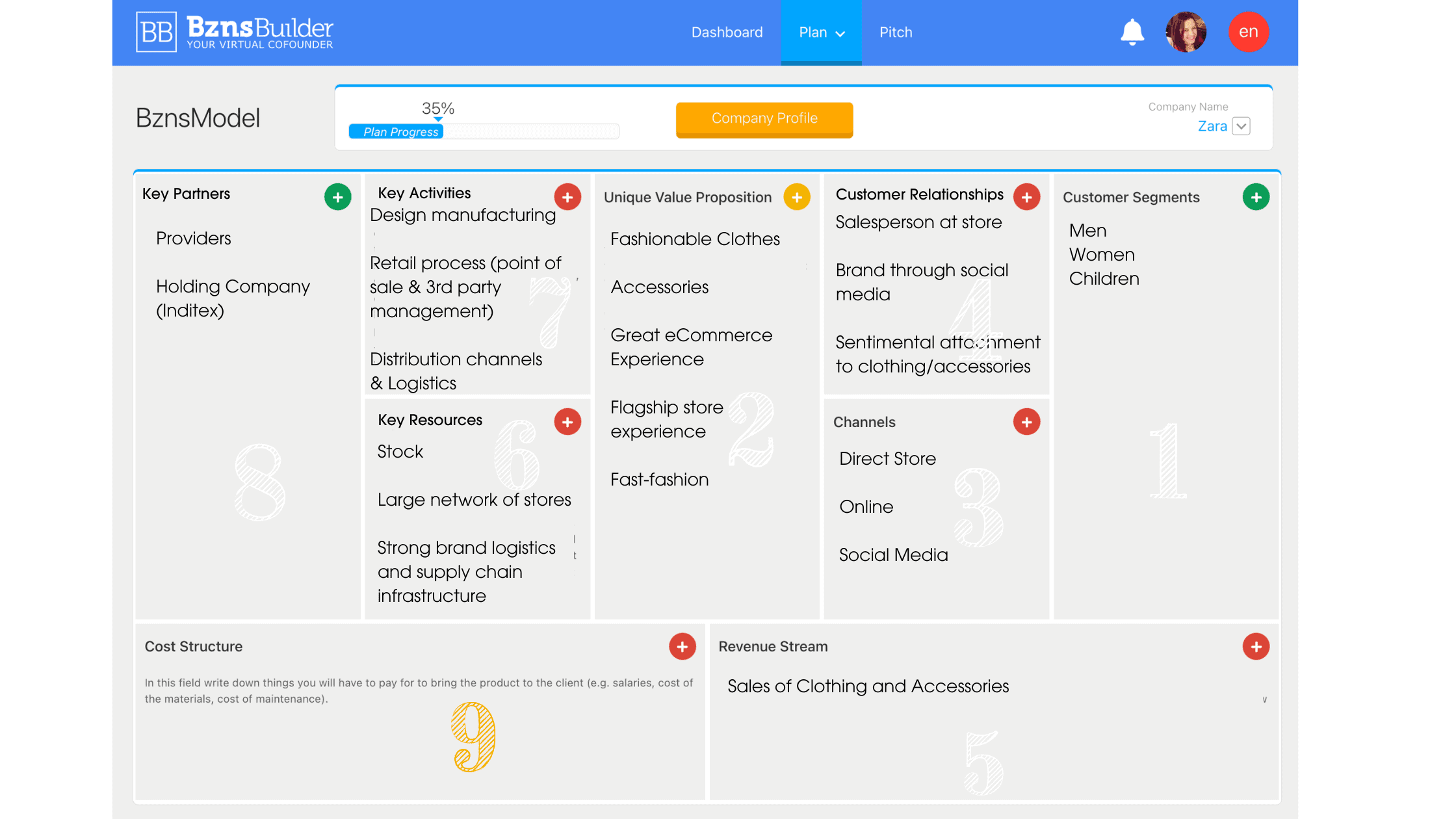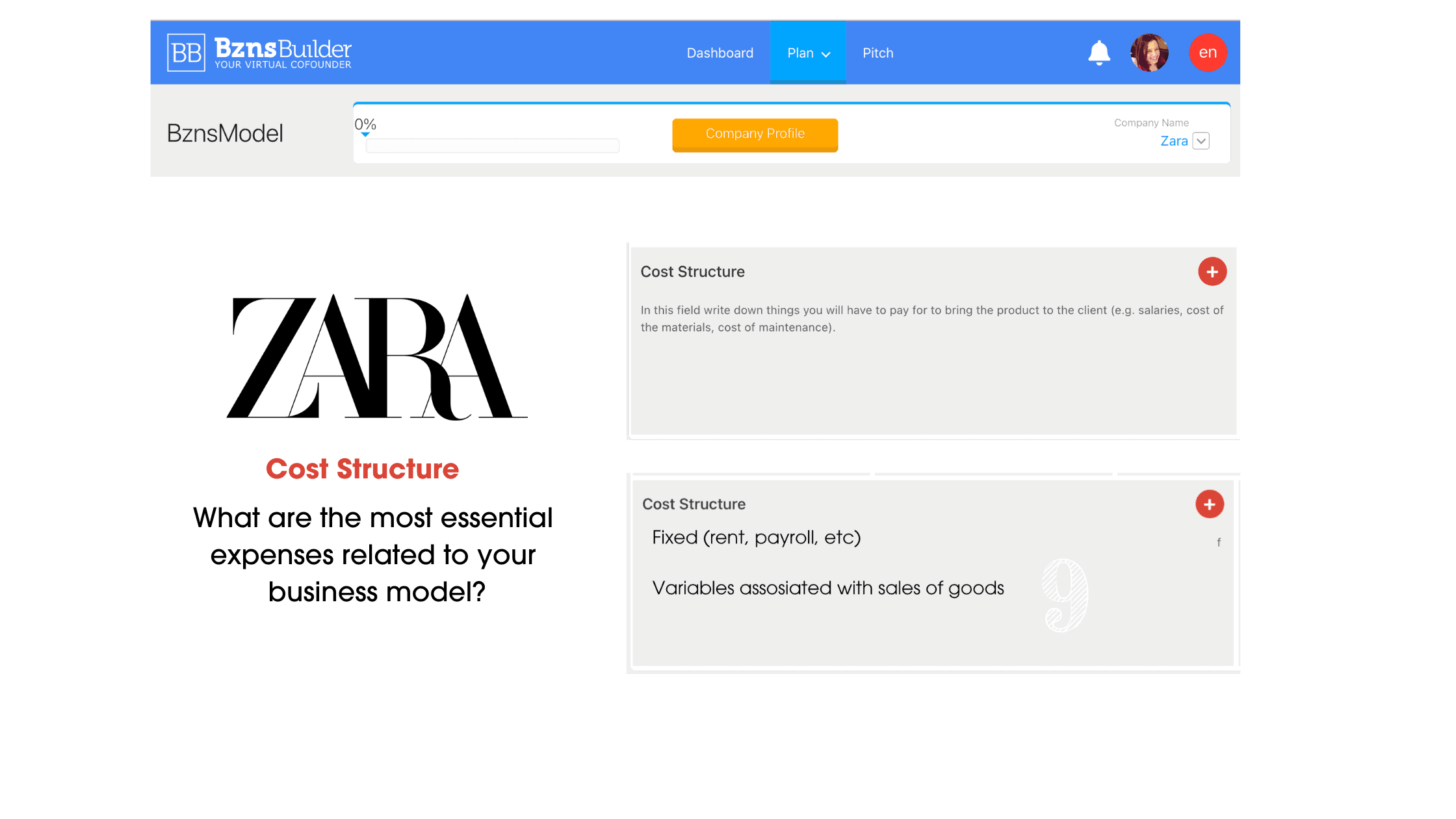 The last step of the Business Model Canvas is to figure out how much this model will cost to run.
This includes things like manufacturing costs, physical space, rent, and wages, but it also includes things like marketing activities.
If you aren't sure what to include in your cost structure, look at a Profit and Loss statement (P&L) from a competitor or company in your industry. Many things, like research and development (R&D), cost of goods sold, administrative costs, operating costs, etc., overlap.
Once you've done that, you should put your most important activities and resources in order of importance and figure out if their costs are fixed or variable.
As Zara is such a big company, they will have both fixed costs (rent, payroll, and point-of-sale staff) and variable costs, such as costs related to the changing sale of goods, the buying of materials, and the cost of making things.
After you finish these steps, your Business Canvas Model should look something like this: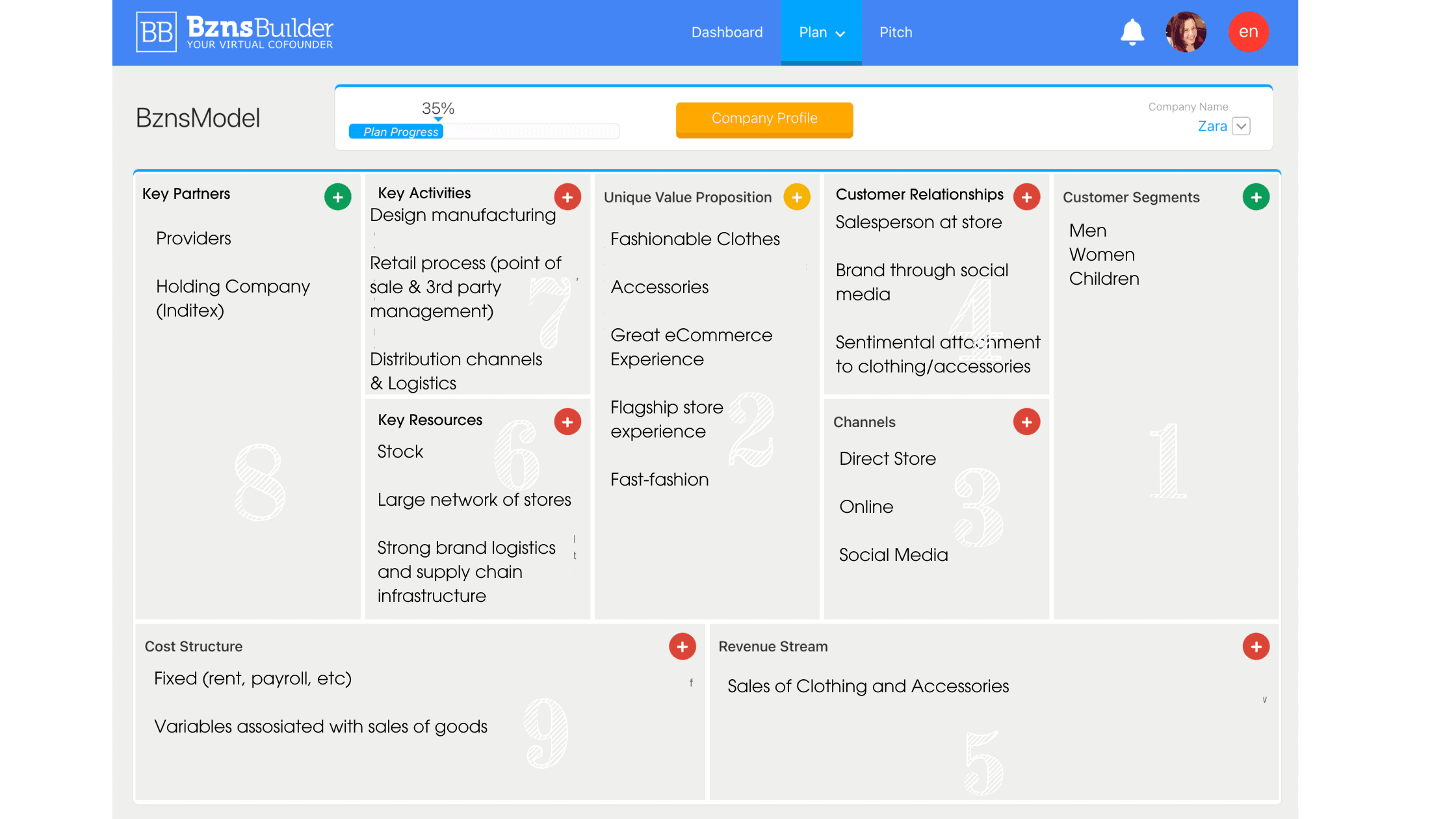 Business Model Canvas Software
Even though we said to start with a big whiteboard, sticky notes, and a pack of colourful Sharpies, there are other ways to make the business canvas model production process digital.
Even though we still think the above method is very useful (it lets you hear from your whole team in a single hour-long meeting), you may decide it's better for each member of management to put together their ideas before telling the rest of the group about them.
If so, take a look at some of the software tools below to help you make your business model canvas.
Strategyzer
Strategyzer has many business model canvas templates that were made by Alex Osterwalder and Yves Pigneur, who came up with the idea for the business model canvas.
If you choose the paid model (there is a 30-day free trial), you can take a series of classes that teach you how to build and test different value propositions and business models.
A built-in cost estimator checks the financial viability of some of your business ideas and shows you other areas you might want to look into with your model.
It's a great place to test out some of your business ideas and play around with them. If you want to learn more, you can.
Canvanizer
Canvanizer is a free, easy-to-use web tool that lets people on a team who are working but coming up with ideas for a business model canvas share links.
Like Strategyzer, there are several business model canvas templates to help you get started with your analysis. The best thing about this platform is that it is easy to use. Like a Google Doc, several people can work on the same canvas at the same time, and changes are synced.
The BznsBuilder Platform has a business model feature.
Stakeholders in BznsBuilder were impressed by how easy and useful the tool was, so they went ahead and made the Business Model Canvas feature.
It's a very smart and easy-to-use tool that lets you make templates by clicking the "+" button in each building block.
Each business model canvas that is made can be saved as a pdf and shared. with the rest of the team and other BznsBuilder features like the business plan, automation financial plan, pitch deck, and data room at the company profile. You may want to sign up here and give it a FREE try or Watch a Demo.
Would you like to achieve better results with business models?
If you'd want to learn more about other business model analyses after reading our step-by-step tutorial on using the Business Model Canvas, have a look at our step-by-step features like business planning, financial planning, pitch deck, data room, and more.
You'll discover how our services provide startups and company owners with a 360-degree picture of their operations, including business development, client segmentation and targeting, value propositions, and finances and access to funding.
We advise you to use this link to schedule a FREE consultation with one of our specialists.
In any case, we would love to know what you think of this guide. Was it beneficial?
Would you be interested in seeing more business cases from your sector being analyzed? Contact us here.
Other canvases
The Lean Canvas
Ash Maurya made the Lean Canvas, which is based on the Business Model Canvas, for startups in 2010. The Lean Canvas focuses on solving broad customer problems and delivering them to different customer segments through a unique value proposition. The "key partners" and "key activities" blocks in the Business Model Canvas are replaced by "problem" and "solution" blocks. The "key resources" and "customer relationships" blocks are replaced by "key metrics" and "unfair advantage" blocks.
Value Proposition Canvas
The Value Proposition Canvas is an addition to the Business Model Canvas ("customer segment" and "value proposition" blocks) that came out in 2012. It looks at the relationship between customers and products, how customers see the value of a product or service, and how well the product or service might fit the market. The "value proposition" block is divided into three sections: products and services, gain creators, and pain relievers. These three sections match the three sections in the "customer segment" block: customer jobs, gains, and pains.
Mission Model Canvas
The Mission Model Canvas is a version of the Business Model Canvas made by Alexander Osterwalder and Steve Blank for organizations like government agencies that don't want to make money but have a set budget. 2016 was the year it came out. Osterwalder and his colleagues have written in the past about how to use the Business Model Canvas for nonprofits that need to raise money. "Mission budget/cost" and "mission achievement/impact factors" replace "cost structure" and "revenue streams" in the Business Model Canvas. "Beneficiaries," "buy-in/support," and "deployment" replace "customer segments," "customer relationships," and "channels,".
Want help starting up your business, growing it, and making products and services that your customers will love? Get a FREE consultation from BznsBuilder Team.